From:TheBahamasWeekly.com


International
Climate change and disaster risk management at centre of regional fisheries talks
By CARIBBEAN REGIONAL FISHERIES MECHANISM SECRETARIAT
Dec 10, 2012 - 4:49:55 PM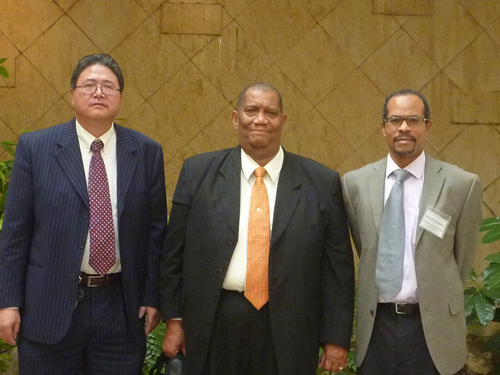 Director of the Jamaica Fisheries Division, Andre Kong; Jamaica Minister of Agriculture and Fisheries, Roger Clarke; and CRFM Executive Director, Milton Haughton.


Belize City, BELIZE -- The hurricane season just ended, and particularly the trail of death and destruction carved out by Hurricane Sandy in October, has left many with a reminder of just how devastating natural disasters can be. Climate change is a compounding factor that regional fisheries managers cannot ignore.

This is why for the next three days, more than 90 collaborators from across the region will be focusing on these issues, as they convene the Workshop on Formulation of a Strategy, Action Plan and Programme Proposal on Disaster Risk Management (DRM), Climate Change Adaptation in Fisheries and Aquaculture in the CARICOM Region at the Knutsford Court Hotel, in New Kingston, Jamaica, from Monday, December 10 to Wednesday, December 12.

"The Caribbean is said to be one of the most disaster-prone regions in the world based on the frequency and severity of hazard impacts, as well as the significant damage, destruction and social and economic losses experienced. We are very mindful of the potential devastating impact of both man-made and natural hazards such as tropical storms, hurricanes, floods, droughts, volcanic eruptions, and earthquakes and tsunamis. Over the past 2-3 decades, these hazards have had devastating impacts on the people, their property and livelihoods, and on the social and economic development of our countries," said Executive Director of the Caribbean Regional Fisheries Mechanism (CRFM), Milton Haughton.

Haughton noted that fishers, fish farmers and fishing communities, particularly those in coastal areas, are vulnerable.

"It is not surprising, therefore, that the subject of climate change and disaster risk management has been recognised as a fundamental development challenge in the Caribbean requiring special attention by policy makers," he added.

The CRFM Executive Director informed that at the request of the CRFM, the FAO has provided support to assist the countries of the region with the development of a Regional Strategy, Action Plan and Programme Proposal on Disaster Risk Management and Climate Change Adaptation in Fisheries and Aquaculture, in an effort to implement adaptation and mitigation.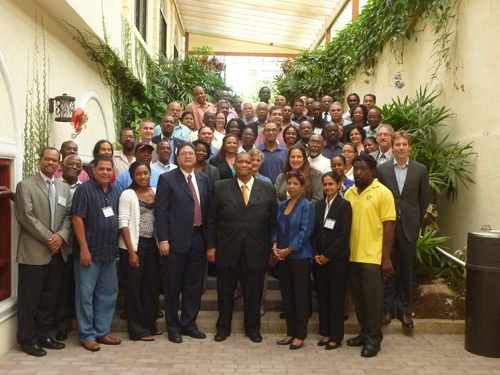 Participants in CRFM/FAO/WECAFC/CCCCC/CDEMA in Jamaica.


It is in this vein that government officials responsible for fisheries, climate change and disaster risk management, along with fisher folk and civil society representatives, will meet in Jamaica this week to discuss the topic.

"This should help us as a region to better understand the impacts of climate change on the fisheries and marine ecosystem, and implement adaptation and mitigation measures to protect food security and the livelihoods of coastal communities in the region," Haughton elaborated.

Towards Sustainable Development of Fisheries for the People of the CaribbeanHe urged that, "We need to act now to climate-proof and protect the vulnerable coastal fishing communities and their livelihoods, and build ecosystem resilience into our aquaculture and fisheries management policies."

Days earlier at the same meeting venue, the regional collaborators convened two and a half days of talks to provide input on the Zero Draft of the International Guidelines for Securing Sustainable Small-Scale Fisheries (SSF Guidelines), which will be presented for adoption to the 31st Session of the FAO Committee on Fisheries (COFI) in July 2014.

"The preparation of the SSF Guidelines is expected to contribute to policy development at the national and regional levels," said FAO Senior Fishery Officer Helga Josupeit. "In addition, both the process and the final product are expected to have considerable impact on guiding policies and practices for securing small-scale fisheries and creating benefits, especially in terms of food security and poverty reduction."

Josupeit explained that small-scale fishers, fish workers and their communities across the world should feel a sense of ownership of the SSF guidelines, thus contributing to the process of turning resource users into resource stewards.

Prior to the meetings on the draft SSF guidelines, the participants in the meeting undertook a performance review of the CRFM. They have also provided their initial input into a new 8-year strategic plan to span 2013-2021.

These milestone meetings are convened by the CRFM in collaboration with the FAO Western Central Atlantic Fishery Commission (WECAFC), the Caribbean Community Climate Change Centre (CCCCC), and the Caribbean Disaster Emergency Management Agency (CDEMA), through funding and technical assistance provided by the Food and Agriculture Organisation (FAO) of the United Nations.



© Copyright 2012 by thebahamasweekly.com -