From:TheBahamasWeekly.com


International
Miss Teen Tennessee crowned Miss Teen USA 2009 in The Bahamas
Aug 4, 2009 - 10:41:07 AM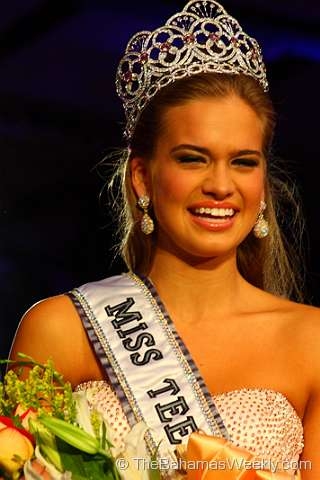 Paradise Island, Bahamas – Stormi Bree Henley, Miss Tennessee Teen USA was crowned Miss Teen USA 2009 at the beautiful Atlantis, Paradise Island in the Bahamas on July 31, 2009. The 18-year old winner is from Crossville, TN. For the first time ever, the Miss Teen USA pageant was streamed online to a worldwide audience at www.missteenusa.com.

Miss USA 2008®, Crystle Stewart, and Seth Goldman of NBC's "Entertainment Buzz" emceed this year's pageant. Canadian singer/songwriter, Leah Renee, performed her new song, "Insanity" from her debut CD, Storybook and hit band Honor Society performed songs "Over You" and "See You in the Dark" off their debut album, Fashionably Late.

This year's distinguished panel of judges included: John Shea, Commercial Agent, Frontier Booking, Inc.; Mark Turner, Commercial Agent, Abrams Artists; Duane Gazi, Director of Scoutingand Development, Trump Model Management; Heather Kerzner, Kerzner International, Inc.; Rhona Graff, Vice President/Assistant to the President, Trump Organization; Gillian Sheldon Heckendorf, Managing Editor, Momlogic.com; Eric McLendon, Actor and Realtor, The Corcoran Group and Eva Chen, Beauty and Health Editor, Teen Vogue.

Throughout the event, the contestants competed in three categories: swimsuit, evening gown and interview. Stevi Perry, Miss Teen USA 2008, crowned her successor at the conclusion of the two-hour Miss Teen USA pageant.

Final Results:

First Runner-Up: Brooke Fletcher, Miss Georgia Teen USA, who will assume the duties of
Miss Teen USA 2009 if for some reason she cannot fulfill her responsibilities.

Second Runner-Up: Chelsea Gilligan , Miss California Teen USA

Third Runner-Up: Kasey Staniszewski, Miss Maryland Teen USA

Fourth Runner-Up: Brittany Guidry, Miss Louisiana Teen USA

Top Five: Brittany Guidry, Miss Louisiana Teen USA
Kasey Staniszewski, Miss Maryland Teen USA
Stormi Bree Henley, Miss Tennessee Teen USA
Chelsea Gilligan , Miss California Teen USA
Brooke Fletcher, Miss Georgia Teen USA

Top Fifteen: Allison Kusenberger, Miss Arkansas Teen USA
Chelsea Gilligan , Miss California Teen USA
Brooke Fletcher, Miss Georgia Teen USA
Jefra Bland, Miss Kentucky Teen USA
Brittany Guidry, Miss Louisiana Teen USA
Kasey Staniszewski, Miss Maryland Teen USA
Kristen Danyal, Miss Michigan Teen USA
Sierra Drimak, Miss Missouri Teen USA
Ileri Tunrarebi, Miss Nevada Teen USA
Kelsey Stevens, Miss Ohio Teen USA
Talia Turco, Miss Rhode Island Teen USA
Stormi Bree Henley, Miss Tennessee Teen USA
Tasha Smedley, Miss Utah Teen USA
Sadie Porter, Miss Washington Teen USA
Amy David, Miss Wyoming Teen USA

Miss Photogenic Teen USA™ Award: Allyson Hovda, Miss Iowa Teen USA. The general public voted at missteenusa.com for the delegate who exemplifies beauty through the lens of a camera.

Miss Congeniality Teen USA™ Award: Ashley Sagisi Moser, Miss Hawaii Teen USA. The award reflects the respect and admiration of the delegate's peers, who voted for her as the most congenial, charismatic and inspirational participant.

The MISS TEEN USA® 2009 prize package includes: custom diamond tiara and jewelry created by Diamond Nexus Labs; a two-year scholarship from the New York Film Academy worth more than $100,000 dollars to its acting or film-making programs; eveningwear gowns designed by Sherri Hill; a cosmetic package by LOVER Cosmetics; an assortment of DXG USA Luxe Collection video cameras, year-long supply of Farouk Systems products, makers of CHI, the original Ceramic Technology tools; a six-day/ five-night vacation for two, at Atlantis, Paradise Island, Bahamas; membership to Gravity Fitness and pampering at John Barrett Salon; fashion portfolio by leading fashion photographer Fadil Berisha; consultations with nutritionist and creator of The F-Factor Diet™ Tanya Zuckerbrot; dermatology and skincare services by Dr. Cheryl Thellman-Karcher; consultations with personal stylist Billie Causieestko and access to an event wardrobe from leading fashion designers; access to a New York City apartment for the year of her reign including living expenses and professional representation by the Miss Universe Organization to further her personal and professional goals.

Tune-in and watch as the next Miss Universe® is crowned live on NBC on Sunday, August 23rd at 9:00 p.m. ET from Atlantis, Paradise Island Bahamas!

Miss Teen USA News Source




About Atlantis, Paradise Island, The Bahamas


Atlantis, Paradise Island is the flagship resort of Kerzner International. This unique, ocean-themed destination features a variety of accommodations, all built around a 97-acre waterscape. Atlantis unveiled AQUAVENTURE, a non-stop water experience. The Cove Atlantis, a 600-room resort, features oversized rooms with a step down living space, spectacular designs by acclaimed interior architects Jeffrey Beers and David Rockwell, unprecedented services and amenities, private all-adult and family pools, lavish cabanas and breathtaking views of the ocean. Atlantis is also known as THE culinary destination in The Caribbean with a collection of restaurants from world-renowned chefs including Nobu Matsuhisa, Jean-Georges Vongerichten, Bobby Flay and Angelo Elia. The resort boasts an impressive collection of luxury boutiques and shops and the largest conference center, meeting and convention facilities in The Caribbean.



About Miss Teen USA


The Miss Universe Organization, producers of the MISS UNIVERSE®, MISS USA® and MISS TEEN USA® Pageants, is a Donald J. Trump and NBC Universal joint venture. Miss Teen USA spends her year building relationships with organizations devoted to education and action, such as Best Buddies, D.A.R.E., Girl Talk, Sparrow Clubs and Project Sunshine. For more information, visit: www.missteenusa.com.


© Copyright 2009 by thebahamasweekly.com -