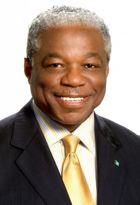 Remarks from the Floor by Dr. Bernard Nottage, Minister of National Security of The Bahamas – Interpol General Assembly, Rome, Italy

5th November 2012
Mr. President, Secretary General, Ministers, Police Chiefs, Chief Constables, Commissioners, Law Enforcement Executives and distinguished delegates good morning. We are meeting at a time when Governments across the globe are constrained by the economic realities of depressed financial markets and various sectors are competing for scarce resources in their respective countries. For a number of years now, many, if not all of us in law enforcement, have been challenged to do more with less. Even more daunting is the challenge to discontinue important law enforcement programs and to focus on what is ordinarily referred to as core policing functions. Unfortunately, in many countries, the first programs which are discontinued are community based policing (CBP) programs which, in my view, are critical to the rebuilding of strife and crime torn communities by working with people of all strata of society to create awareness and empowerment.
Overview of Crime:
The twin evils of illicit drugs and the illegal firearms trafficking have wreaked untold havoc in countries across the globe. For the past five years, crime figures have steadily spiraled upward in many cities which once boasted of low crime rates. The crimes being committed are being perpetrated by relatively young men who are prolific offenders and who are no strangers to law enforcement or to the criminal justice system. Many of these offenders seem to commit their nefarious acts with perceived impunity having very little if any regard for law enforcement and citizens.
Despite my temptation to speak more broadly, I wish to restrict my very brief remarks to the challenges which have confronted us, and continue to challenge us, in my country – The Bahamas.
During the late 70's and early 80's, drug trafficking from South America was prevalent in the Caribbean and The Bahamas could not escape being a transit country for cocaine and marijuana destined for North America. During this period over 70% of the drugs destined for North America were transshipped through The Bahamas. To date, according to our records and credible United States sources, only 2% of illicit drugs currently transits The Bahamas for North America. This phenomenal level of success is a result of many years of hard work and vibrant partnerships between my country, The United States of America, Canada, Europe, The Caribbean, and the global law enforcement community.
Permit me to repeat here the recent views of The United States Senate Caucus on International Narcotics Control and I quote: "Since it was first launched in 1982, Operation Bahamas, Turks and Caicos (OPBAT), has been remarkably successful in reducing drug trafficking through the Bahamas and The Turks and Caicos. Over the three decades of OPBATS operations, the percentage of cocaine entering the United States via The Bahamas has been reduced from nearly 80% to less than 5 percent! Through OPBAT, the DEA, U.S. Coast Guard, and the U.S. Department of Defense conduct drug interdiction in cooperation with the Royal Bahamas Police Force and the Royal Bahamas Defence Force." END QUOTE.
Notwithstanding our success, the trade in illegal drugs has left behind a culture of dishonesty, disrespect, and urban violence. Many of our citizens who were accustomed to the benefits which they derived from the drug trade and a false economy must now face the harsh reality that they must legitimately work. Many of them, predominantly our young men, are ill prepared and as a result have turned to other forms of crimes. These crimes include human smuggling, illegal gambling, robberies, a myriad of other property crimes, and fraudulent activities.
Illegal drugs and illicit firearms trafficking:
The transport, sale, and use of illegal drugs continue to fuel crime in many countries. A consequence of the drug trade is the possession, trafficking, and use of illegal firearms to commit serious crimes. Due to the focused attention on the USA/Mexican Border by authorities of The United States of America and the intolerance in Mexico by Mexican Law Enforcement Officials, we are attuned to the reality that there is a strong probably that drug trafficking organizations will turn their attention to softer targets and will demonstrate an aggressive exploitation intent. Suffice it to say, we feel that the Caribbean region will attract the attention of these organizations. We therefore, support the view that proactive and urgent attention must be directed to our region – the Caribbean. We must not be caught napping nor should we repeat the mistakes of the early 80's. We must carefully assess the current risks to our countries and move hastily to build capacity to discourage and negate any attempt to exploit our region.
The Bahamas, in the last decade, has experienced a new gun culture where more illegal weapons are ending up in the hands of criminals. Consequently, serious crimes have increased in The Bahamas and a significant amount of serious offences such as Murder, Armed Robberies, and serious wounding (shootings) are being perpetrated with illegal firearms.
For the year to date (YTD) a total of 415illegal firearms have been recovered in the Commonwealth of The Bahamas. These weapons range from Revolvers to assault Rifles. Our statistical data tells us that 99% of these weapons are traced to United States of America, particularly the state of Florida. I hasten to point out here that the possession of handguns and assault weapons are totally illegal in The Bahamas.
In May of 2012, my Government was elected to office and I was appointed the Minister of national Security. Upon assuming office, I immediately undertook to provide all of the necessary resources, and support to law enforcement agencies in The Bahamas. I also gave my support to existing mutual legal assistance treaties between my country and other countries and renewed our commitment to working even more closely with regional and international law enforcement agencies to make our countries safer places to live, visit, work, and play.
To date, all categories of crimes are trending downward in The Bahamas. For the year to date (YTD) murder is down by 14% over the same period for last year and our detection rate is up significantly. I am very pleased with the work being done by our law enforcement agencies and I am optimistic that we will continue to make good gains as we seek to keep our country safe for visitors and residents alike.
Some of our initiatives included but were not limited to:
· Renewed focus on Community Based Policing through a signature program of my Government known as 'Urban Renewal 2.0.' Time will not permit me to expand on this initiative but I have brought along a copy of the program booklet for the record and it is also resident on our website at www.royalbahamaspolice.org
· Reorganization of police divisions and departments to return more uniform officers to the streets. These officers are assigned exclusively to mobile patrols using marked and unmarked patrol cruisers, motorcycles, and bicycles as a part of our 'Saturation patrols' initiative.
· Deploying Selective Enforcement Teams as a part of our predictive policing strategy. This initiative includes the targeting and arrest of prolific and serious offenders who create fear in our communities and are a danger to our citizens.
· The launching of a 'Swift Justice' initiative which brings together the police, criminal prosecutors, and other key members of the criminal justice system who work under the leadership of the Attorney General to prosecute criminals in a timely manner.
· Acquiring best of breed technology for our law enforcement officers and integrating technological solutions to ender synergy across the criminal justice system. We are extremely proud of the decisions which we have made in this regard and anticipate the implementation of a Regional Integrated Ballistic Identification Network for the Caribbean with potential connectivity to Interpol and to NIBIN and CIBIN.
· Allocating funds to acquire a CCTV solution which will be implemented in the City Center of Nassau and in crime hotspots in New Providence. This is a major undertaking which offer tremendous potential benefits for public safety and there is every reason to believe that its successful implementation and management will lead to safer streets and safer communities.
· Convening meetings of Heads of National Law enforcement Agencies (HONLEA) so that law Enforcement leaders can share information, experiences, and best practices. This level of cooperation is expected to produce good results as the resources of all agencies are coordinated to ensure maximum efficiency and effectiveness
Role for the Police – Adapting the security responses:
In the face of new and emerging threats, all of us in law enforcement must adapt our policing strategies to move ahead of organized crime groups and criminals. These strategies should include but not be limited to:
· Leveraging existing partnerships with Interpol, Europol, Ameripol, IACP, ACPO, ACCP, and other regional and global law enforcement organizations.
· Working with Governments and their public safety and law enforcement organs to build capacity and to improve communications and cooperation. These initiatives should transcend law enforcement and must include public health, safety and support in times of manmade and natural disasters.
· Maintaining and strengthening Community Based Policing Programs
· Deploying best of breed technology and propagating these innovations locally, regionally and globally. Good examples of this are Automated Fingerprint Identification networks, integrated ballistic identification networks, DNA databases, and many other innovations.
· Identifying centers of excellence in law enforcement and mirroring these where practicable.
· Improving law enforcement ability to communicate instantaneously across the globe so as to bring to bear the necessary resources to interdict crime wherever it occurs.
Bahamas Government's credibility and international relations:
My Government and Bahamian law enforcement agencies continue to enjoy the confidence and trust of our regional and international law enforcement partners. This was clearly evidenced by the recent hosting of the Association of Caribbean Commissioners of Police (ACCP) Annual General Meeting at Atlantis, in The Bahamas, during the period 21st through 25th may 2012. This AGM included senior law enforcement and Government officials from The United Kingdom, United States of America, Canada, and The Caribbean region. We also hosted the Association of Penal and Corrections officers who recently converged on Nassau Bahamas for their Annual General Meeting. Further, we will continue our participation at meetings of Interpol, the International Association of Chiefs of Police, the International Drug Enforcement Conferences, the Meetings of Ministers of National Security for the Caribbean, sundry meetings of the OAS, and meetings other global law enforcement organizations. We also anticipate hosting a meeting of the International Police Executive Symposium in Nassau Bahamas during 2014.
I wish to conclude my remarks by proffering thanks to President HUI and Secretary General Ron Noble of Interpol and the leaders of other partner agencies for their innovative programs and for focusing significant attention and resources to The Caribbean region and more specifically The Bahamas. Thanks to ongoing dialogue and cooperation, we currently reap the benefits which accrue as a result of the placement of the I 24/7 system with linkages to powerful databases with indexes of stolen vehicles, firearms, works of art, passports and a myriad of other resources. Further, we communicate in real time and are pleased by the level of responses from Interpol. We are encouraged by our recent successes due to this partnership and we pledge our continued support now and well into the future.
Thank you.