From:TheBahamasWeekly.com


International
U.S. Ambassador Nicole Avant Marks the United States' 235th Anniversary of Independence with "A Salute To California"
By US Embassy
Jul 6, 2011 - 6:37:46 PM




Nassau, Bahamas - U.S. Ambassador to The Bahamas Her Excellency Nicole A. Avant and her husband Mr. Theodore Sarandos hosted the official U.S. Independence Day celebration at the U.S. Ambassador's Liberty Overlook home on Saturday, July 2. The event was held under the theme, "A Salute to California", and it brought together guests from throughout The Bahamas and the United States and to enjoy and sample an array of California's culture and cuisine. Musical entertainment for the occasion was provided by Jazz Etc. who performed a repertoire of California songs with the evening culminating in a spectacular fireworks display set to Tchaikovsky's

Overture of 1812

.

Ambassador Avant, speaking on behalf of U.S. President Barack Obama, thanked her guests for their continued support and friendship to the people of America and referenced a remark made by President Obama.

"This is the day when we celebrate the very essence of America and the spirit that has defined us as a people and as a nation for more than two centuries."

The evening was set aside to pay tribute to the Ambassador's home state of California and she highlighted what makes the State so unique.

"Our nation's 'golden state' is unique not only because of its geographic diversity, but in that it houses an array of differing nationalities, religions and political views…California is the most populous state and has the distinction of being the eighth largest economy of the world."

Ambassador Avant also expressed gratitude to the men and women representing the U.S. Armed Forces whose selfless dedication allows all Americans to maintain their freedom and liberties. Those gathered observed a moment of silence in remembrance of those servicemen and women who gave the ultimate sacrifice.




In his remarks, Governor General of The Bahamas His Excellency Sir Arthur Foulkes used the occasion to reiterate the strong bilateral friendship and the democratic values shared by both The Bahamas and the U.S. and thank Ambassador Avant for her work in local communities throughout The Commonwealth of The Bahamas.

This was the U.S. Embassy's second event this week marking the 235th Anniversary of the Independence of the United States. For the second year Ambassador Avant hosted an official 4th of July event in Freeport Grand Bahama, this time aboard the U.S. Navel Ship the USS VICKSBURG on the evening of June 30. The United States Northern Command (USNORTHCOM) co-hosted the event, which included more than 200 of Grand Bahamas' top leaders and a special visit by the 21st Commander of USNORTHCOM and NORAD, Admiral James A. Winnefeld and his wife Mrs. Mary Winnefeld.

The United States Embassy would like to thank the following sponsors in Nassau and Freeport that helped to make both events a success – Atlantis Resort/Kerzner International, Baha Mar/Sheraton Resort, Bahamas Food Services, Bahamas International Rentals Ltd., Baker's Bay Golf & Ocean Club, Bradford Marine Bahamas Ltd., Bristol Wines & Spirits and Bacardi USA, British Colonial Hilton Nassau, Burns House Group of Companies, Caribbean Bottling Company (Bahamas) Ltd., Chevron Bahamas Ltd., Dartley Bank & Trust Ltd., Discovery Management Inc., Disney Worldwide Services, Esso Standard Oil S.A. Ltd., Freeport Aggregates Ltd., Greyco Ltd., J.M. Family Enterprises, Inc., J.P. Morgan Trust Company (Bahamas) Ltd., Kentucky Fried Chicken, Lowe's (USA), MSC Bahamas Ltd., Odyssey Aviation, Radisson Our Lucaya, Grand Bahama, Bahamas, Phil's Food Services, PriceWaterHouseCoopers, Starbucks, Seaboard Marine Bahamas Ltd., Sweet South Fine Cakes, Texaco Bahamas Ltd. and Treasure Bay Casino.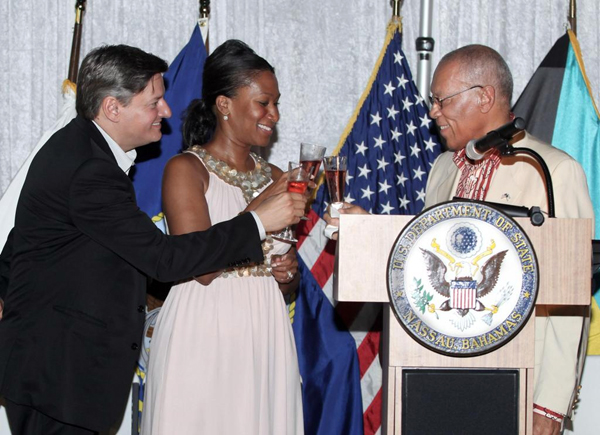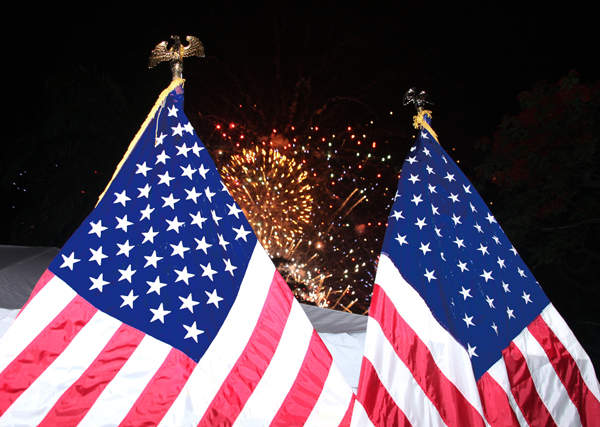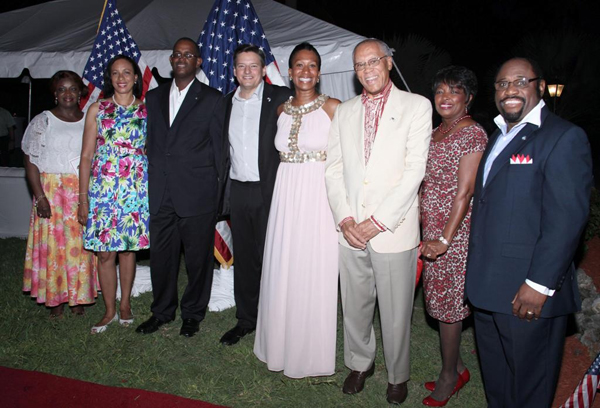 © Copyright 2011 by thebahamasweekly.com -