From:TheBahamasWeekly.com


International
Youth Empowerment Program Members visit Bahamas Consulate General in Atlanta
By Oswald Brown
May 1, 2015 - 11:06:47 AM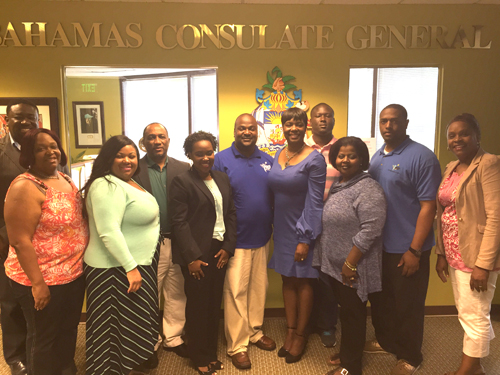 ATLANTA, Georgia – Directors and members of The Youth Empowerment Program (YEP) Bahamas paid a courtesy call on the Consulate General in Atlanta on Friday, April 10, 2015. The group and its members were officially greeted by Deputy Consul General Monique Vanderpool and members of the Consulate staff.

Under the direction of Mr. Delano Munro, who founded the organization in September 2011, the program has assisted in the development of young Bahamians from 9th to 12th grades at various schools across New Providence and has recently expanded onto the island of Eleuthera.

The YEP Organization offers a holistic skills development approach that is enriched with nearly 100 years of Youth Work, Program Management, and Youth Work training experience, combined from its Board of Directors, Administrative and Management team and its volunteers. It is a non-profit private NGO that is licensed and privately managed, but as a requirement of the Government of The Bahamas, the YEP Organization is registered and recognized through the Ministry of Youth Sports and Culture as a Youth Organization and is also sanctioned and endorsed by the Ministry of Education, Science and Technology.

Their most recent trip brought them to the United States, stopping in Georgia, where they visited various institutions and university, in hopes of pursuing tertiary education away from The Bahamas. The Youth Empowerment Program group departed Atlanta on Saturday, April 11, 2015.




© Copyright 2015 by thebahamasweekly.com -