From:TheBahamasWeekly.com


Local
BPL Gives Update on New Providence Power Restoration (10AM)
By Bahamas Power and Light Company Limited (BPL)
Oct 8, 2016 - 10:58:31 AM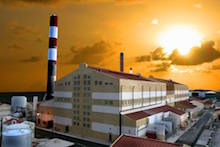 10AM SATURDAY Restoration Update:

BPL has now restored power to the following areas:

Blue Hill Road South-Golden Gates 1 & 2
Carmichael Road West
Carmichael Road East
Silver Gates
West Bay Street-Between Nassau Street and Sea View Drive.
West Bays Street from Nassau Street to the Hilton Hotel
Nassau Street North
Infant View Road
West Bay Street
Winton- Portion of Eastwood Subdivision
Prince Charles East -Main Prince Charles Drive
Downtown Nassau
Sands Lane
Dowdeswell Street
Doctors Hospital
Princess Margaret Hospital
Financial Center
Shirley Street from Elizabeth Avenue to School Lane
Main Post Office
Victoria Gardens
Bay Street
Charlotte Street
Westridge
South Westridge
Killarney Shores
Sandyport
Skyline Lakes Subdivision
Skyline Drive
Sandals Hotel
Breezes Hotel

BPL crews are currently working to have power restored to the following areas:

Chippingham
Williams Lane
Kemp Road
Fire Trail Road
Coral Harbor
Blue Hill Road South
Pinewood
Tropical Gardens


9AM FRIDAY: Bahamas Power and Light Company Limited (BPL) has started restoring power in New Providence.

Power has been restored to Eastwood and Downtown Nassau after 1am this morning and the work continues.

The company's action plan for restoration is a step down approach impacting the largest amount of customers first and continuing on to smaller groupings and then individual customers.

Here's how it will work:
1. Once assessments of the transmission lines are complete and repairs, if necessary are made, BPL will begin restoring supply to communities.
2. Customers whose supply are delivered through underground transmission and distribution lines will likely have their power restored first.
3. After transmission line work is complete, BPL will also begin restoring supply to communities fed through overhead lines. This process may take much longer as there is considerable damage to BPL's overhead distribution network on the island.
4. Once larger community restorations are complete, BPL will begin addressing individual customer issues.

Given the extent of the damage restoration could, for some, take several days or even longer. There are numerous issues that may impact the restoration process including; severe flooding on several parts of the island.

We fully understand how critical power is in helping you recover from such a destructive storm; however, while we will work hard to get power restored to all communities, we will do so safely. We cannot and will not jeopardize the safety of our teams or customers to expedite this process. We hope customers can appreciate the extremity of this situation and will work along with us to help all communities and the entire country bounce back after this devastating storm.


6PM THURS: Bahamas Power and Light Company Limited (BPL) is preparing to begin the initial stage of restoration in New Providence as Hurricane Matthew exits our area.
BPL advises that the National Emergency Management Agency (NEMA) has not given the all clear; therefore, crews cannot carry out a full assessment of the damage on New Providence in order to begin restoration work. The company advises that once NEMA issues the all clear, crews will be out immediately carrying out assessments so that BPL can mobilize restoration teams on the island.
Preparing for that, BPL has already carried out assessments of its Blue Hills Power Station and several substations and are now prepared to provide service to critical departments including the Princess Margaret Hospital and the Royal Bahamas Police Force Headquarters.
Based on the reports of our customers, BPL anticipates widespread damage to its distribution network in New Providence and this could mean longer periods of supply interruption for customers.
1. Once the all-clear is issued and our initial assessments are complete, BPL crews will be working. We encourage anyone who does not have to be on the streets to please stay indoors as heavy traffic could hamper the restoration effort.
2. Customers are encouraged to continue reporting damage to BPL's Command Centre at 302-1800 or 323-5561 or BPL's Facebook page if they have phone services available.
3. Be patient. The damage is likely significant in New Providence and it will take time to complete the restoration work.
Similar to New Providence, BPL is already starting to restore supply to customers in the Southeastern and Central Bahamas. Supply has been restored to parts of Cat Island and South Andros and fully restored in Rum Cay, Long Cay San Salvador, Mayaguana, and Crooked Island. Efforts are underway to begin restoring supply in Long Island.
Supply remains off in Exuma and Eleuthera.


© Copyright 2016 by thebahamasweekly.com -