From:TheBahamasWeekly.com


Local
Genting Group, Tan Sri KT Lim & PM Christie to official open new port at Resorts World Bimini
By Michelle Malcolm, Resorts World Bimini
Sep 11, 2014 - 11:57:06 AM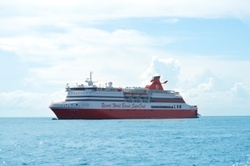 BIMINI, Bahamas – The official opening of the first phase of the new Port at ResortsWorld Bimini will be celebrated on Thursday, September 18th under the auspices of Prime Minister, the Rt. Hon. Perry Christie and the Executive Chairman of Genting Group, Tan Sri KT Lim. The two esteemed leaders will participate in a ribbon cutting ceremony and welcome the inaugural guests from Fort Lauderdale disembarking from the Bimini SuperFast. In addition to cruises from Miami on Fridays to Sundays, Bimini SuperFast will be cruising from Fort Lauderdale on Tuesdays, Wednesdays and Thursdays commencing on October 14, 2014.
Distinguished guests attending the event will include Government Ministers, Ministry of Tourism officials, members of the Bimini Local Government Town Council, invited Biminites and members of the Bimini Superfast will be hosting more than 400 travel agents, tour operators and South Florida hotel concierges from Fort Lauderdale for the day cruise to Bimini featuring a full day of activities and time to relax on the island's pristine beaches. The experience will enable them to better encourage their clients to discover the jewel that is Bimini. Passengers will be greeted in a traditional Bahamian style with a local Junkanoo rush out, a welcome rum punch cocktail and musical entertainment by Bimini's famed Prime Time Band.
The passengers will then be transported throughout the island via shuttle, as is typical during a regularly scheduled weekend cruise. This influx of hundreds of visitors to the island on a weekday will bring welcomed economic impact to Alice Town, including the Craft Market, conch shacks, bakeries and restaurants, giving business owners a taste of the benefits to come when Bimini SuperFast resumes service to the island throughout the week.


© Copyright 2014 by thebahamasweekly.com -