From:TheBahamasWeekly.com


Local
Marine Biologist: Research Shows Significant Effects of Bimini Development on Marine Environment
By Diane Phillips & Associates
Mar 21, 2014 - 10:24:59 PM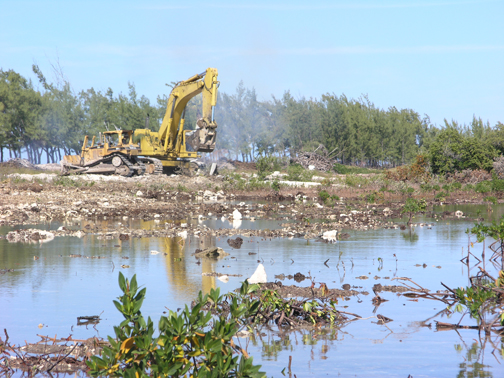 An excavator digs near mangroves in Bimini as mega-resort construction continues. A 14-year study has revealed startling mangrove and marine degradation over the course of the development, including loss of nurseries for fish, conch and crawfish and a survival rate of newborn lemon sharks that plummeted to 26%, according to a well-known marine biologist. Dr. Kristine Stump presented the findings at the recent Bahamas Natural History Conference in Nassau. Photo by Dr. Kristine Stump


BIMINI, Bahamas - Research from a long-term study reveals that the year mega-resort construction in Bimini deforested almost half of a lagoon's mangrove shorelines, the survival rate of newborn lemon sharks plummeted to only 26%. The startling statistic was revealed during a presentation on the closing day of last week's Bahamas Natural History Conference in Nassau.

During the presentation, marine biologist Dr. Kristine Stump demonstrated that successive developers of the ongoing project, currently operated by Resorts World Bimini, have failed to use mitigation measures such as silt curtains while dredging and filling, sending plumes of dangerous silt into the lagoon, an important nursery ground for sharks, conch and lobster. The loss of important submerged mangrove habitat and accompanying siltation can have negative effects on the marine community, and results from her study showed declines in several important fish species that occurred after mangrove deforestation.

Local environmental advocate Joseph Darville, education officer for the fast-growing Save The Bays environmental advocacy movement, said he was overwhelmed by Stump's presentation.

"Save The Bays has been saying this all along. And now we have the proof, now we have the science. There can be no backtracking from here," he said.

Save The Bays has been a strong advocate for the creation of several additional marine protected areas around the Bahamas, including a North Bimini Marine Reserve.

"The most important step now is to prevent further loss by finalizing the long-awaited North Bimini Marine Reserve," said Stump. "By protecting what remains, there is hope that the lagoon can still function ecologically as a nursery for resources critical to the Bahamian economy."

Darville could not agree more.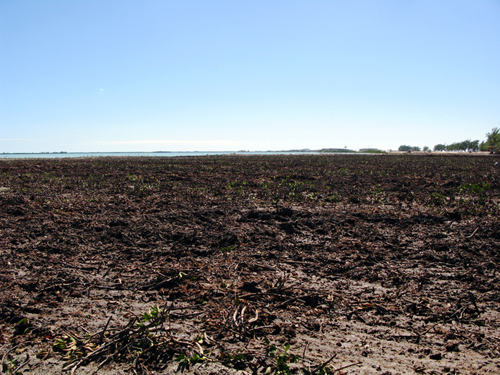 A wide swath of mangrove forest cleared on the north side. Save The Bays has been urging the declaration of a marine protected area for northern Bimini to preserve remaining mangrove habitats and some of the most treasured coral reefs in the world. Photo by Dr. Kristine Stump


"The country has already lost significantly in Bimini, one of the most delicate and valuable ecosystems in the world," he said.

The research presented by Dr. Stump used data on Bimini's marine environment going back over 14 years to investigate the effects of habitat loss through mangrove deforestation. It compared data before the development, originally known as Bimini Bay, to newly collected post-development information.

The findings indicated that due to the threat of predation outside the lagoon, juvenile lemon sharks remained in the nursery where they were born, despite severe environmental degradation and a drastic decline in available resources, including a more than 50% drop in their preferred prey. In addition, there was a significant drop in species richness, a measure of biodiversity, after the development.

"We found acute and chronic effects on not only the sharks, but also the entire marine community following the development within the lagoon," Stump told the dozens of scientists and conservationists attending the conference.




© Copyright 2014 by thebahamasweekly.com -