From:TheBahamasWeekly.com


Local
SkyBahamas teams up with Resorts World Bimini to Boost Visitor Arrivals
By Michelle Malcolm, Resorts World Bimini
Jun 6, 2014 - 7:50:55 PM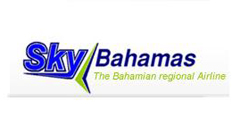 Bimini, Bahamas – SkyBahamas and Resorts World Bimini (RWB) are teaming up to increase airlift to thetwin islands. Beginning June 13th 2014, RWB is offering an all-inclusive hotel package deal for visitors to the island to promote midweek and weekend stays at the Resort. Double occupancy rates for a two-night stay start as low as $969.00during low demand or $1,237.00 during high demand, inclusive of airfare and taxes. The packages are valid through the end of August, and restrictions apply.
The collaboration comes on the heels of SkyBahamas' introduction of flight services between Bimini and Fort Lauderdale(FLL) three days per week – Sunday, Wednesday and Friday. On Sundays and Fridays, SkyBahamas will depart South Bimini at 5:00 p.m., arriving in FLL at 5:30 p.m. It will then depart FLL at 6:00 p.m., arriving in Bimini at 6:30 p.m. Each Wednesday, flights will depart Bimini at 10:00 a.m., arriving in FLL at 10:30 a.m. It then departs FLL at 11:00 a.m., arriving in Bimini at 11:30 a.m.
Round trip tickets from FLL to Bimini will be priced at $281.50 per person for travel during high demand and $251.50 per person for low demand travel periods. One way tickets will cost $165.00 per person during high demand and $145.00per person during low demand.
SkyBahamas currently offers flights between Bimini and Nassau, and Bimini and Freeport every day (except Tuesdays and Saturdays) with continued service on to Fort Lauderdale and back on Sundays, Wednesdays and Fridays. The Bimini-Freeport connection flights leave Bimini at 3:50 p.m. and arrive in Freeport at 4:15 p.m. (Sundays and Fridays). It leaves Freeport for Bimini at 4:25 p.m., arriving at 4:50 p.m. (Sundays and Fridays). On Mondays, Wednesdays and Thursday flights depart Bimini at 8:50 a.m. and arrive in Freeport at 9:20 and returns to Bimini from Freeport at 9:30 a.m. For more details and bookings visit SkyBahamas' website at www.skybahamas.net.
Resorts World Bimini is operated by the Genting Group, a global company, founded in 1965, and the world's largest Destination Resorts operator. Genting has Resorts World-branded properties in Asia, Europe, North America and on all four oceans through 43% ownership of Norwegian Cruise Line and Star Cruises brands. The company has a combined market capitalization of $45 billion and employs more than 50,000 people worldwide.
More information about Resorts World Bimini is available at www.rwbimini.com


© Copyright 2014 by thebahamasweekly.com -