Last Updated:

Feb 6, 2017 - 2:32:04 PM
---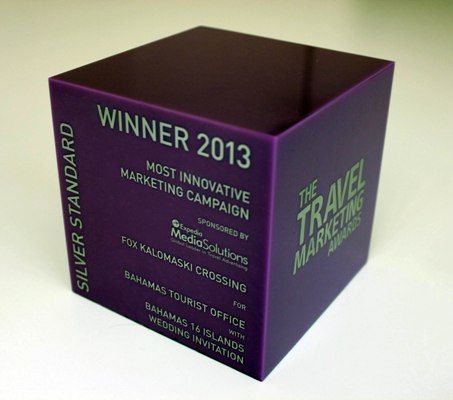 LONDON - The Bahamas is the recipient of the coveted Travel Marketing Award for Most Innovative Marketing.

Chartered Institute of Marketing Travel Industry Group (CIMTIG) bestowed the award for the creation and execution of the 16 Islands Wedding Invitation, a campaign that brought increased awareness of The Bahamas' 16 major islands and island groups. The campaign sought to increase the profile of the islands of The Bahamas as a weddings and honeymoon destination by offering 16 UK couples the chance to get married on one of the 16 main islands in 16 simultaneous ceremonies on 16 May 2012. The wedding invitation ran through social media, via TV spots and promotions, with entrants invited to upload videos and photographs to a bespoke webpage and explain why they should get married on one of the 16 islands in The Bahamas. Friends and family could sign up as guests, with a dedicated facebook page and twitter account driving further engagement.

Winners were selected by a judging panel and a public vote on WeddingTV, before enjoying a 'Bridal Boot Camp' with Olympic champion Victoria Pendelton. Nearly 1,000 couples registered to win their wedding, with 14,000 guests signing up to receive further Bahamas Tourist Office information.

The Travel Marketing Award, now in its fifth year, has evolved into one of the most prestigious and credible events in the travel industry calendar. It promotes the discipline of marketing in travel by recognising the finest work being accomplished today.

The Bahamas' 16 Islands Wedding Invitation received the Most Innovative Marketing Award First Place Silver Standard after being created for the Bahamas Tourist Office by Fox Kalomaski Crossing.

Richard Carrick, President CIMTIG, said of the Awards, "In an era where marketing is being pushed ever harder to deliver, good practitioners really earn their spurs – and these awards celebrate those marketers that truly understand the consumer and have developed relevant and effective campaigns that get results."

Delighted with the award Maria Grazia Marino, District Sales Manager, Bahamas Tourist Office, said, "We have been thrilled with the results of the campaign, which has really put The Bahamas on the map for weddings and honeymoons. The dedication of the wedding teams on 16 of our beautiful islands helped to make this campaign a real success."

On receiving the award, Fox Kalomaski Crossing's Chief Executive Officer, Gary Jacobs, said: "We are delighted to receive this special recognition for our Bahamas 16 Islands Wedding Invitation which broke new ground in raising awareness of The Islands of The Bahamas as a go-to destination for romance."

The 'Most Innovative Marketing Award' was tightly contested with more shortlisted than most other categories. The Second Place Silver Standard went to G Adventures' 'You'll Never Forget It' campaign and Third Place Silver Standard to Tourism Australia for 'Best of Australia Collection'.






© Copyright 2013 by thebahamasweekly.com

Top of Page