From:TheBahamasWeekly.com


Ministry of Tourism Updates
Introducing "Club Grand Bahama" – The World's First Island-Inclusive Vacation
By GB Ministry of Tourism
Jul 3, 2009 - 11:09:10 AM






The Islands of The Bahamas Redefine All-inclusive Vacations on Grand Bahama Island




Grand Bahama Island – Where could travelers choose to sleep at one resort, feast on fresh local seafood and steaks at restaurants, snorkel and scuba dive top coral reefs, kayak through mangroves, sail and enjoy cocktails on the ocean at sunset and do it all without opening their wallets? Nowhere, until now, with the launch of the first all-inclusive island destination. The Bahamas Ministry of Tourism has teamed up with the Grand Bahama Island Tourism Board to unveil Club Grand Bahama – a flexible, affordable travel (or holiday) experience that has redefined the "all-inclusive" vacation.

Beginning July 2nd, 2009, travelers can book a getaway to Grand Bahama Island with absolute freedom of choice: deciding for themselves where to stay, eat and play for one set price. Breaking the mold on the traditional, individual resort all-inclusive vacation, Club Grand Bahama guests select accommodations at one of five resorts, including the conveniently located Port Lucaya Resort & Yacht Club, the boutique Flamingo Bay Resort & Marina, oceanfront resorts Our Lucaya Reef Village and the Radisson at Our Lucaya Beach & Golf Resort, or charmingly decorated harbor-side Pelican Bay at Lucaya Hotel. Upon arrival, guests are greeted with roundtrip airport or harbour transfers to the hotel or resort of their choice. The package includes shuttle bus service connecting the guests to as many as 50 sports and recreational activities from golf and scuba diving to fishing and adventure experiences. The guests will choose from up to 21 dining venues for breakfast and dinner each day of their stay from seaside to elegant indoor dining; plus special beach parties; casino gaming; and exclusive shopping discounts. Club Grand Bahama vacationers will have options in their all-inclusive experience that span the entire destination.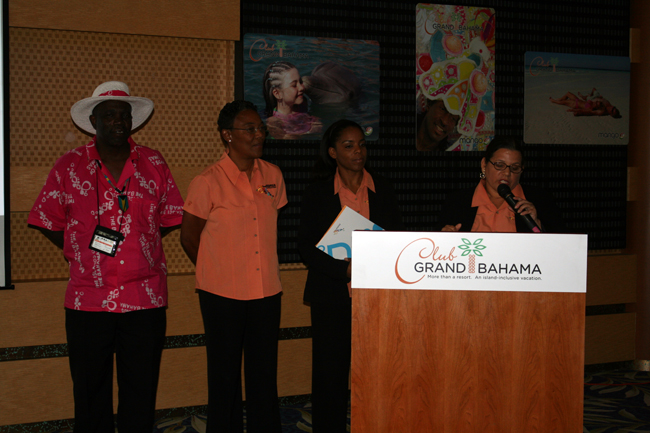 "We're thrilled to introduce this revolutionary all-inclusive island concept on Grand Bahama Island," said Bahamas Ministry of Tourism Director-General Vernice Walkine. "In an environment where value is paramount, Club Grand Bahama Island delivers on this promise and brings a new diversity of selection and experiences to the traditional all-inclusive concept."
To satisfy varying budgets, Club Grand Bahama packages have been divided into Silver, Gold or Platinum levels, with the number of activities and dining options increasing exponentially with each level. Travelers purchase a package and then receive a Club Grand Bahama Card that will be activated at check-in and swiped for meals and activities throughout the vacation. Rates start at $88 per person per night for Silver; $149 per night for Gold and $198 per night for Platinum, excluding tax and resort fees. Complete Club Grand Bahama packages including transportation are now available. For those who wish to cruise to Grand Bahama Island, Discovery Cruise Line now offers Club Grand Bahama from Ft. Lauderdale, Fla.
On-site help will be available around the clock from Club Grand Bahama hosts, who will be stationed at all hotel locations and key attractions sites, as well as being available via a toll-free phone number, (888) 270-1205.
Listen to Vernice Walkine, Director General of Tourism speak about Club Grand Bahama in a VIDEO Interview

For information

or to book a Club Grand Bahama vacation, visit

www.bahamas.com

or call 1-800-8-BAHAMAS.
Located 55 miles from the coast of Florida, Grand Bahama Island offers a congenial atmosphere and soft-adventure water sports for travelers seeking a family-friendly getaway or romantic escape. As the fourth largest island of The Bahamas, Grand Bahama Island is a 96-mile stretch of white sand beaches, colorful resorts, national parks perfect for nature walks and kayaking, and is home to the world's largest underwater cave system. To learn about Grand Bahama Island, call 1-800-8-BAHAMAS or visit Bahamas.com. To purchase one-of-a-kind items and mementos from The Bahamas, visit www.eshopbahamas.com.

The First to Experience Club Grand Bahama
Michael and Hilary Szczyblewski, came across the new Club Grand Bahama Vacation package listed on Expedia.com, at 1:00a.m. Thursday, June 18th 2009. The recently wed couple was frantically searching for an all-inclusive, last minute deal to replace arrangements that had to be canceled on Tuesday. In a desperate, tear-filled, two-computer search they both came across the new offer and agreed to swiftly book the three nights, four days Silver package at the Reef Village, Our Lucaya Beach and Golf Resort.
Hilary telephoned the Club Grand Bahama Welcome Centre toll-free number at approximately 4:00 p.m., to advise they were arriving on American Eagle flight from Miami. The couple arrived on Grand Bahama Island at 10:30 p.m., as the first Club Grand Bahama members and were greeted at Grand Bahama International Airport with destination hosts bearing flowers and smiles and were ushered into a long white stretch limousine.
They received a complimentary upgrade to an ocean view room, from the Silver to Gold package level. Over the three days they enjoyed four breakfasts in three different restaurants. Activities included a scooter rental, Dolphin Encounter and a Sailing and Snorkel adventure; and their choice of dinner ranged from pan Latin cuisine to international gourmet delights, and innovative fusion cuisine.
Hilary in recounting their experience exclaimed that "the flowers and limousine were just too good to be true!"
CLUB GRAND BAHAMA GUIDEBOOK (PRINT PDF FORMAT)

Breakfast Locations Available

• After Deck
• Island Java
• Le Med
• The Cove
• Zorbas
Dinner Locations Available
• After Deck
• The Cove
• Grand Bahama Yacht Club
• Zorbas
Attractions Selections Available
• Bicycle rental offered by Lucayan Watersports
• Glass Bottom Boat offered by Lucayan Watersports
• Snorkeling offered by Lucayan Watersports
• Super Combination Tour offered by Forbes Charter


Breakfast Locations Available

• After Deck
• Dive Bar & Grill - UNEXSO
• Willy Broadleaf's
• Island Java
• Le Med
• The Cove
• Zorbas
Dinner Locations Available
• After Deck
• Agave
• Dive Bar & Grill - UNEXSO
• The Cove
• Ferry House
• Georgie's on the Beach
• Le Med
• Luciano's
• Sabor
• Grand Bahama Yacht Club
• Zorbas
Attractions Selections Available
• Bicycle rental offered by Lucayan Watersports
• Glass Bottom Boat offered by Lucayan Watersports
• Snorkeling offered by Lucayan Watersports
• Super Combination Tour offered by Forbes Charter
• Booze Cruise offered by Executive Sports/Superior Watersports
• East End Extravaganza Tour offered by Forbes Charter
• Enchanted Evening Cruise offered by Reef Tours
• Garden of the Groves offered by Garden of the Groves
• Glass Bottom Boat offered by Lucayan Watersports
• Glass Bottom Boat offered by Reef Tours
• Golf Ruby Course offered by Ruby Course
• Kayak Adventure offered by Paradise Cove
• Mango Tango Evening Cruise offered by Pat & Diane Tours
• Ocean Motion- Water trampoline, Kayak Rental, Banana Boat Ride Package offered by Ocean Motion
• One Tank Dive offered by UNEXSO
• Sailing and Snorkel Tour offered by Reef Tours
• Sailing Tour offered by Reef Tours
• Scooter rental offered by Lucayan Watersports
• Sea Safari Snorkeling offered by Pat & Diane Tours
• Sea World Explorer offered by Executive Sports/Superior Watersports
• Snorkeling offered by Reef Tours
• Snorkeling offered by Lucayan Watersports
• Snorkeling Paradise offered by Paradise Cove
• Sunset Cruise offered by Executive Sports/Superior Watersports
• Super Combination Tour offered by Forbes Charter
• Waterworld Bowling - 2 bowling games, tokens (pool/video) sandwich w/ fries, non alcoholic beverage offered by Waterworld Bowling
• West End Tour offered by Paradise Cove Forbes Charter


Breakfast Locations Available

• After Deck
• Dive Bar & Grill - UNEXSO
• Willy Broadleaf's
• Island Java
• Le Med
• The Cove
• Zorbas
Dinner Locations Available
• After Deck
• Agave
• Dive Bar & Grill - UNEXSO
• The Cove
• Ferry House
• Georgie's on the Beach
• Le Med
• Luciano's
• Sabor
• The Cove
• Grand Bahama Yacht Club
• Zorbas
• China Beach
• Irie's
• Prop Club
Attractions Selections Available

• Airboat tour offered by Bahamas Eco Ventures
• Bicycle rental offered by Lucayan Watersports
• Booze Cruise offered by Executive Tours/Superior Watersports
• Bottom Reef Fishing offered by Reef Tours
• Dolphin Encounter offered by UNEXSO
• East End Extravaganza Cave Tour offered by Forbes Charter
• Enchanted Evening Cruise offered by Reef Tours
• Freeport Biking Tour offered by GB Nature Tours
• Garden of the Groves offered by Garden of the Groves
• Glass Bottom Boat offered by Lucayan Watersports
• Glass Bottom Boat offered by Reef Tours
• Golf at Lucayan or Reef Course Our Lucaya Beach and Golf Resort
• Golf Ruby Course offered by Ruby Course
• Jeep Safari Tour offered by GB Nature Tours
• Kayak - Paradise offered by Paradise Cove
• Kayak Nature Walk offered by GB Nature Tours
• Mango Tango Evening Cruise offered by Pat & Diane Tours
• Native Hunting Tour offered by Smiling Pat's Adventures
• Ocean Motion- Water trampoline, Kayak Rental, Banana Boat Ride Package offered by Ocean Motion
• One tank Dive offered by UNEXSO
• Pelican Point Tour offered by Smiling Pat's Adventures
• Sailing and Snorkel Tour offered by Reef Tours
• Sailing Tour offered by Reef Tours
• Scooter rental offered by Lucayan Watersports
• Sea Safari Snorkeling offered by Pat & Diane Tours
• Sea World Explorer offered by Executive Tours/Superior Watersports
• Shark Dive offered by UNEXSO
• Snorkel and Kayak Tour offered by Paradise Cove
• Snorkeling offered by Reef Tours
• Snorkeling-Paradise offered by Paradise Cove
• Sunset Cruise offered by Executive Tours/Superior Watersports
• Super Combination Tour offered by Forbes Charter
• Two Tank Dive offered by UNEXSO
• Waterworld Bowling - 2 bowling games, tokens (pool/video) sandwich w/ fries, non alcoholic beverage offered by Waterworld Bowling
• West End Tour offered by Paradise Cove Forbes Charter


© Copyright 2009 by thebahamasweekly.com -