From:TheBahamasWeekly.com


Ministry of Tourism Updates
Sun 'N Fun executives seek to bring more private pilots to The Bahamas
By Bahamas Ministry of Tourism
Jun 26, 2014 - 10:33:34 PM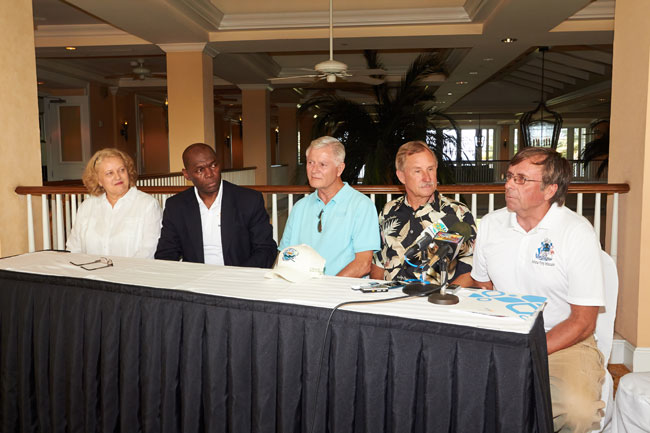 Mike Zidziunas, Bahamas Flying Ambassador talks at a press briefing announcing Sun N' Fun's plans to help increase general aviation in The Bahamas, Also at the press briefing from left are: Elizabeth Vance, Aviation Specialist at the Ministry of Tourism; Greg Rolle, Director of Bahamas Sports Development Marketing; Robert Knight, Sun 'N Fun's Chairman of the Board; Captain John Leenhouts, President and CEO, Sun 'N Fun and Mike Zidziunas, The Bahamas Flying Ambassador. (Photo courtesy of The Bahamas Weekly/David Mackey)


Freeport, Bahamas - The executive team of Sun 'N Fun met with Minister of Tourism Obie Wilchcombe in Grand Bahama this week in hopes of partnering with the Government of The Bahamas to find new ways to increase the number of private pilots flying to The Bahamas.

During a press briefing before the meeting, Director of Bahamas Sports Development Marketing Greg Rolle said over 75,000 private pilots fly their aircrafts into The Bahamas and one plane can hold about four or five persons.

"Every time an aircraft pilot flies to The Bahamas, they have to get a hotel room, buy food, rent a car and get all of the amenities that come along with these things, so the economic impact is great," he said.

"We will see more Bahamians finding jobs, which will enable them to send their kids to college and earn a piece of that Bahamas dream. The minister of tourism is here from the policy perspective to get all of the information we need to make sure they realise that we are pulling out all our big stops to say we want to make this happen for the country."

Captain Mike Zidziunas, The Bahamas Flying Ambassador, led the team of executives and a team of private pilots as they navigated the skies of Grand Bahama and Bimini and tour the islands.

They also toured the new West End Airport.

The fly-in is a result of the Ministry of Tourism Sport's Department recent promotions at the 2013 Experimental Aircraft Association OshKosh Air Show and 2012 Bahamas Fixed Based Operator familiarization trip.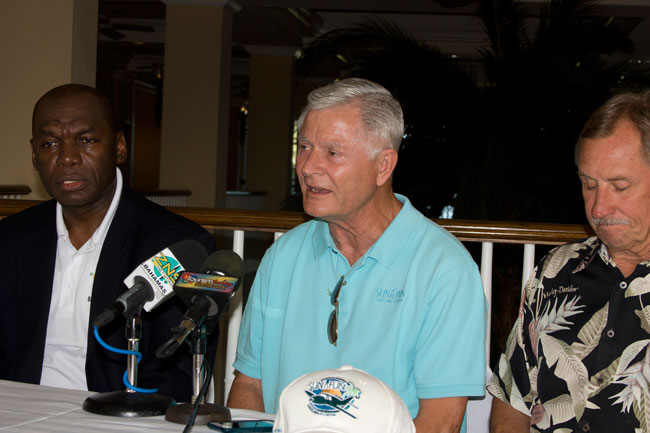 Greg Rolle, Director of Bahamas Sports Development Marketing looks on as Robert Knight, Sun 'N Fun's Chairman of the Board speaks at a press briefing announcing Sun N' Fun's plans to help increase general aviation in The Bahamas, Wednesday, June 26, 2014. (Photo courtesy of The Bahamas Weekly/David Mackey)


The largest aviation show in Florida and second largest in the United States, Sun 'N Fun, attracts more than 400,000 pilots to its annual show.

In 2012, Sun 'N Fun conducted its first five -day fly-in to Grand Bahama and Marsh Harbour, of which some 60 pilots participated.

Captain Zidziunas said he has been working with Mr. Rolle to promote general aviation in The Bahamas.

He said that promotion would lead to more individuals visiting places in The Bahamas where airlines do not service.

Robert Knight, Sun 'N Fun's Chairman of the Board said Sun 'N Fun should partner togetherwith The Bahamas, as its location in central Florida makes it a natural gateway into The Bahamas.

President and CEO, Captain John Leenhouts, Sun 'N Fun said the organization has found that The Bahamas Government has done a tremendous amount of work to ease the challenge of getting into a foreign country coming out of the U.S.

"So our goal at Sun 'N Fun is to give the pilot population throughout the United States a reason to come down here and to show them that it is easy access; it is a comfortable place to come; you are going to be treated really well and it is cost effective," he said.

"To fly across the ocean is not that scary anymore and The Bahamas is a wonderful place to come with your family and your friends for a long weekend and enjoy what so many people have done in Key West."

He added, "Today, we took pilots that have never flown here, showed them how easy it is and then led them down here. Now they have come and they will bring others and that is the whole concept."

Sun 'N Fun also wants to work with children in the Outer Island communities by training them to fly when they come down on their trips to help get them involved in a positive activity.



© Copyright 2014 by thebahamasweekly.com -