Students from two United States universities got a special study abroad experience recently with an immersion in Bahamian culture through the People to People program.
More than 20 students from Drake University and St. John's University took part in an ambassador hosting at the home of People to People volunteer Keith Saunders. Mr. Saunders, a veteran of the program, treated the students to a Bahamian meal, and the group also had the opportunity to meet Bahamian college students.Thomas Westbrook, professor at Drake University, led his students to Nassau for a three-week leadership course, Leadership at Sea. In the course, students lean about seamanship, languages and culture. After a taste of Junkanoo at the Educulture, the Ministry of Tourism's People to People hosting was another rewarding experience for the students.
"It is just a lot of fun to begin to discover how other people are like and very different from us," said Mr. Westbrook. "We are enjoying our time here and certainly enjoying the People to People program and thank them for the opportunity to come here tonight to meet students from the College of The Bahamas, students from St. John's University in New York and also to share a wonderful meal at this home."Dr. Berkita Bradshaw, program coordinator for Hospitality Management at St. John's University in Queens, New York, brought Resorts Management students to Nassau as part of the university's goal to have as many students as possible participate in a global experience. The trip was arranged through the university's Office of Global Studies so that the students would learn first hand in one of the world's leading resort tourism destinations.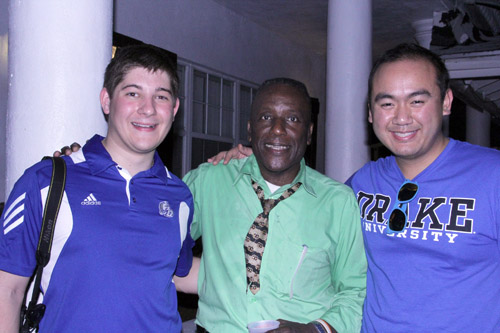 Students enjoy the hospitality of Keith Saunders, a veteran of the People to People program.


"One of the things specifically is that, for one, you can't see this in New York," Dr.Bradshaw said. "Typically in the area where we are, you may have an ideal of winter resorts but not summer and beach resorts or golf resorts. So the idea was to go somewhere students could see that and a lot of people typically from the US sometimes visit The Bahamas. So the ideal for me was, instead of looking at it in a textbook, we would come here."

Luisa He Wu, a junior studying Hospitality Management at St. John's University, said it was clear that hospitality is a part of the Bahamian culture.

"From the couple of days that I have been here, the Bahamians that I have encountered whether it was locals who were street vendors or the staff in resorts, everyone was so friendly," she said. "They would always approach you and greet you. But in New York, no one ever approaches you. No one even looks at you. So I really got a feel of how friendly the Bahamians are and the way that they really like to socialize with tourists and foreigners. So it really gave me a sense of home and a really welcoming feeling."

Students of Drake University also paid a courtesy call on Governor General Sir Arthur Foulkes as part of their study abroad engagements.