Last Updated:

Feb 6, 2017 - 2:32:04 PM
---
Nassau, Bahamas - Erin Metz and her fiancée Tom Sardina dreamed of having a destination wedding, and a cruise to The Bahamas with 60 of their closest friends and family onboard seemed ideal.

Her father, Gordon Metz dreamed of watching his daughter say 'I do'.
Both their dreams came true last month when Nurses, Physicians and staff at Doctors Hospital went well beyond the call of duty.


The father of the bride had been diagnosed with an aggressive pancreatic cancer in July, 2012, but he had been doing well with his treatment and there was nothing to suggest he should not make the journey to his daughter's Bahamas wedding.
The night before the wedding, however, as the cruise ship was making its way into Nassau, Mr Metz suffered what turned out to be a massive stroke.

Early the morning on what was to be her carefully planned wedding on the western end of the island, Erin instead found herself, along with her mother, sister and fiancée, keeping vigil at Doctors Hospital.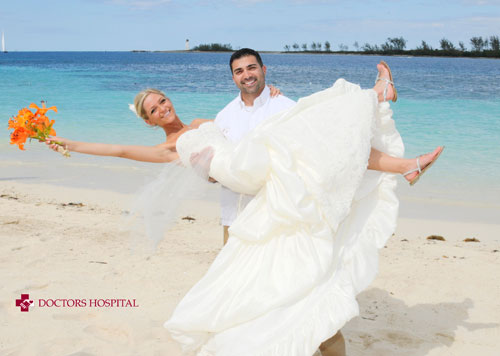 Despite her mother's insistence that they go ahead with the wedding, Erin didn't feel right getting married without her parents there, and so she and her fiancée decided to cancel it.

"At that point I really wasn't concerned with the wedding. I was upset by it obviously, but that was really secondary to what was going on with my Father," she recalls, "I was conflicted because my Mother wanted us to go ahead with our scheduled morning wedding, but I didn't want to get married without my parents there."

That was until Dr Duane Sands asked her if she still wanted to get married that day and introduced her to Doctors Hospital Patient Relations Coordinator Tabitha Butler.
"I'll never forget what he said to us. He said, 'This is Tabitha; she works in patient relations, but today, she'll be your wedding coordinator,'" Erin smiles.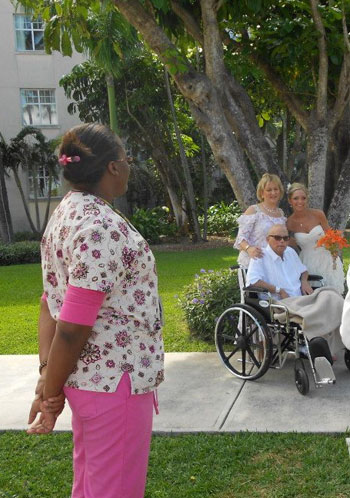 When Doctor Sands told Tabitha that he had called on her because she was the one person he knew would be able to pull off such a feat in less than two hours, she sat with Erin and her mother and said even though she knew there was a lot that needed to happen in order for a wedding of any sort to be pulled off, she was going to do everything within her power to help.

"When I saw their faces and their expressions of desperation and hopefulness and anxiety and hope, I said to myself, 'I have to make this happen.' If it couldn't happen it wouldn't have been on my account. I just wanted to hug them and let them know everything was going to be ok and we would make this work," Tabitha recalls.
Mr Metz's doctors felt the original location was too far away from the Intensive Care Unit, and although a back up site at the hospital had been identified, Tabitha got in touch with Samaria Cooper at The British Colonial Hilton, and the two managed to pull together a garden ceremony overlooking the beautiful Bahamian waters in no time at all.
With the ceremony back on, the 60 wedding guests who had sailed to Nassau with them had to be found and notified.

"No-one had their phones on, but most people ended up just staying on the boat after hearing what had happened with my Dad. The others were pretty much nearby on Bay Street or the side streets. A lot of my friends and their boyfriends went hunting for everyone else," she explains.

On the way back from the hospital Erin and Tom bumped into others and says, "We told them 'the wedding is on, you have to get back and get ready and you have about 40 minutes to do it.'"

They managed to track down all but five or six guests.

Meanwhile, a small army of Doctors Hospital Associates, Nurses and Physicians were working behind the scenes to make it possible for Mr Metz to make it to the revamped wedding.

With all the legal matters sorted out to ensure Doctors Hospital's high standard of care could still be met, ER Nurse Nadine Morris accompanied Mr Metz, while the head of the ICU Dr Michael Darville took ER Nurse Jun Tuban in his private car to the Hilton to ensure all the necessary medical attention was at hand.

"That would never in a million years happen at a hospital in the US," said Erin, who works as an Occupational Therapist, "It just wouldn't even be an option here. Everyone is just so busy that I think we don't take as much time to treat the person. They'd have just said 'he's really sick, he shouldn't be leaving the hospital,' but there are other factors, like he might not make it to another wedding if we had to reschedule. I know it meant a lot to him and it meant a lot to me to have him there."
After having her first shower in more than a day and getting her hair done by a friend, Erin made it to her new wedding on time. She said she really wasn't expecting much since things had been so hurriedly put together, but when she walked in she was blown away.

"We had everything we'd planned for with the original wedding. The British Colonial Hilton team was great too. I didn't have flowers because Carnival had arranged them and they got cancelled when we called the wedding off. The wedding coordinator there ran and put me together some flowers and wrapped them up for me and made me a bouquet and she even gave me some of the Hilton's rum cake for a wedding cake, even though Tabitha had thought to send my Mom with a piece of cake from the Hospital because she didn't know if we'd have a wedding cake. Those little things were just so kind and thoughtful," she says.

Her Mother and Grandfather walked her down the aisle and handed over to her Father who was aware enough to take her hand and in turn hand her over to her fiancée.
"When they pronounced us husband and wife at the end, he clapped for us. I'll never forget that moment," said the 25-year-old bride, "Even though it wasn't the wedding we had planned, it was pretty perfect considering all that was going on."

Tabitha didn't witness the wedding she'd miraculously thrown together, and says while she was rushing around making arrangements, it just felt as if she was doing what she always does as part of her job.
"I really got it when they got back and I asked the Mom how the wedding went and she just got so tearful and hugged me and said 'I can't tell you how much I appreciate what you did for us, I just can't thank you enough and what this all means to us,' and although I was starting to choke up but I couldn't let it show," she says, still getting emotional thinking about the opportunity the Doctors Hospital team had to make such a significant difference in a patient's life and provide Wow service by going above and beyond the expected call of duty.

Gordon Metz was airlifted to the Hospital of the University of Pennsylvania the following day, but his condition quickly deteriorated and he passed away five days later. Although she is understandably sad at the loss of her Father, Erin says she takes comfort in knowing that one of his last memories was of seeing his daughter get married and will forever be grateful to the team at Doctors Hospital for making their dreams come true.







© Copyright 2013 by thebahamasweekly.com

Top of Page