From:TheBahamasWeekly.com


New Providence
Nassau Cruise Port launches 'The Sound of the Future'
By Serena Williams
Dec 7, 2020 - 10:50:40 AM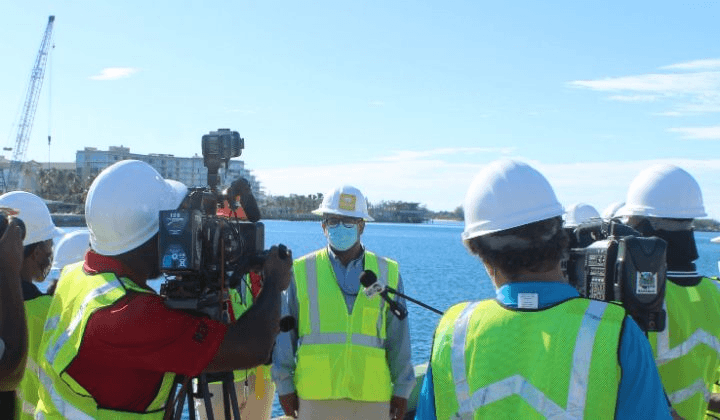 Nassau, Bahamas - Bahamians and visitors are one-step closer to experiencing the economic upturn and social vibrancy of the new Nassau Cruise Port (NCP). Construction has officially begun with the start of piling - dubbed 'The Sound of the Future'- at Prince George Wharf. Nassau Cruise Port Ltd. Director of Projects and Facilities, Lionel Turnquest, ENKA Project Manager, Levent Ustaoglu, and Yeled Thompson of Nassau Cruise Port Ltd. note this phase as a major milestone and anticipate its completion by the second quarter of 2022. "What you will see over the coming months is that the pace of the works will increase as we introduce more equipment and more teams, and we hope to get up to three piling teams at the height of the works so we can get through this piling operation as quickly as possible," said Mr. Turnquest. The pilings form the support of the new berths. The new Nassau Cruise Port will transform the cruise port experience for passengers and residents, and revitalise the waterfront for businesses, Bahamians, and tourists.


© Copyright 2020 by thebahamasweekly.com -