From:TheBahamasWeekly.com


New Providence
Underwater Nuptials at Atlantis
By Ed Fields, Sr. Vice President, Public Affairs
Feb 25, 2009 - 8:16:10 PM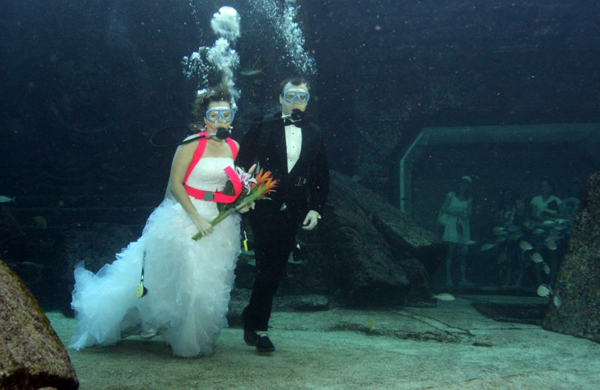 Daniel and Linzi on their underwater wedding march. Photo: Tim Aylen


Paradise Island - Already Kerzner International-Bahamas boasts some of the most breathtaking views imaginable with venues like The Cloisters, at One&Only Ocean Club, renowned as one of the top destination wedding spots in the world.

However, Atlantis, Paradise Island is opening up one its feature venues, "The Ruins Lagoon" that just may be the next top spot to get married on property!

With a stunning array of sea life as the guests of honor, couples can now exchange or renew their vows underwater. Local marriage officer Matthew Sweeting introduced the project to the Atlantis team. "The increased requests for underwater weddings would make a lot of sense when you have Atlantis' world renowned underwater habitat as the backdrop," Sweeting suggested.

His idea took hold with Senior Director of Marine and Water Park Operations, Glen Kelly and Michelle Lui-Williamson, Vice President of Marine Aquarium Operations who began developing the idea that guarantees even the most discerning bride and groom all the frills that any 'dry' wedding may provide!

The Underwater Wedding Package includes the nuptials with full underwater and out of water photography and videography followed by ultra-luxurious pampering at Mandara Spa that precedes an intimate reception for the bride and groom and their 'human' wedding guests.

The underwater wedding test run was held recently (Valentine's Day- February 14th, 2009) with veteran photographer Tim Aylen, videographer Troy Aitken and the "My Atlantis Photos" team expertly capturing the memories of Daniel and Linzi Belton who renewed their vows in the unique setting.

Braving the chilly waters, Linzi donned her original wedding dress and Daniel a traditional black and white tuxedo as they literally took the plunge for a second time!!! The event was not without its amusing moments as Linzi's veil came off in her descent into the Ruins tank and then she had to learn how to elegantly walk underwater.

The ceremony was flawless as both Ruins residents (sea life) and those watching from Royal Towers Great Hall of Waters were enamored by the event.

Future weddings will offer all the bells and whistles of underwater communications and custom made His & Hers Wedding Wetsuits.

Call Atlantis' Social Catering team if you truly want to 'dive' in to married life!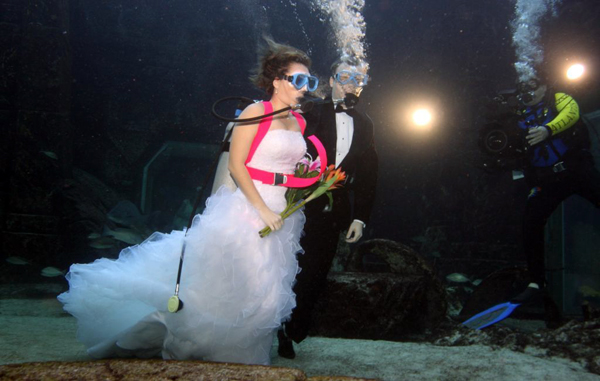 Videographer captures the couple's moments. Photo: Tim Aylen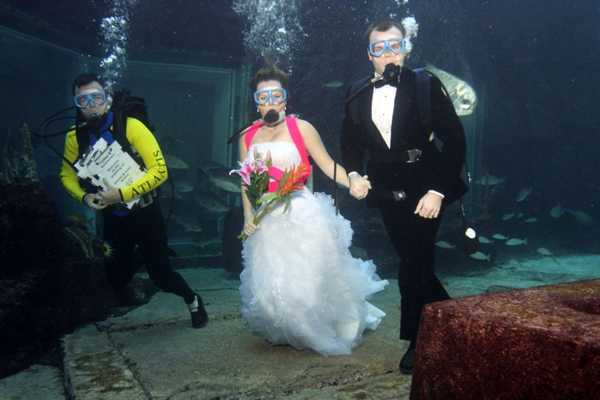 Daniel and Linzi and their underwater marriage officer Matthew Sweeting. Photo: Tim Aylen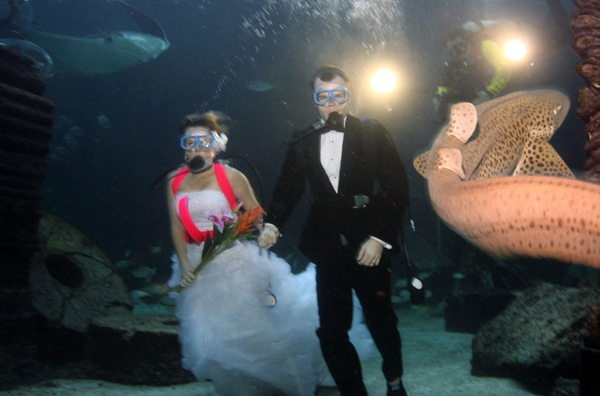 Wedding guests get in on the photo session. Photo: Tim Aylen


© Copyright 2009 by thebahamasweekly.com -