From:TheBahamasWeekly.com


New Providence
Baha Mar Outlines Environmental Commitment in New Book
By Royann Dean
Mar 18, 2014 - 3:47:36 PM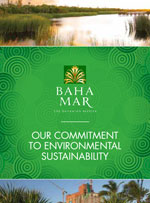 Nassau, The Bahamas – The natural beauty of The Bahamas is a major attraction for tourists and part of the quality of life in The Bahamas. As an important partner in the tourism industry and a part of the local community, environmental awareness has been a central concept of Baha Mar. The company has outlined its environmentally conscious business practices in a recently published booklet, 'Our Commitment to Environmental Sustainability'. The booklet shares current environmental practices such as re-nourishing Cable Beach and taking steps to increase the marine life near the shoreline as well as future plans such as a 'Farm Fresh Initiative' to purchase local and sustainable food for the resort. Baha Mar will also use state-of-the-art technology such as smart thermostats and LED lighting to reduce waste and to efficiently use energy, water and other natural resources. Additionally, the resort aims to educate its employees, partners and contractors about its environmental initiatives with an eye toward a greener, more sustainable future.


Find out more about Baha Mar's environmental initiatives by downloading 'Our Commitment to Environmental Sustainability' at bahamar.com.


© Copyright 2014 by thebahamasweekly.com -