From:TheBahamasWeekly.com


New Providence
Nassau's Sandyport Beaches Resort and Hotel Wins Top Industry Gold Award
By Serena Williams
Jan 27, 2014 - 11:42:43 AM






N

assau, Bahamas - Sandyport Beaches Resort and Hotel has won the coveted RCI Gold Crown Resort award, the highest of the three RCI designations largely determined by vacationers' comments. The announcement was made at the award presentation on January 23rd by Minister of Tourism Obie Wilchcombe during a celebratory event at the Sandyport area hotel in Western New Providence.

Minister of Tourism, Obie Wilchcombe said at the presentation that everybody's efforts count every day in tourism and this major industry honour speaks to that as well as contributing to the overall growth of tourism in The Bahamas.

"It's a major accomplishment and certainly an achievement," said the Minister. "It speaks for the brand they have here and the services provided. It's a contribution to the overall growth of the tourism industry and more particularly it speaks for the Bahamian quality of service that we emphasize, particularly this year as the Ministry of Tourism celebrates its 50th Anniversary."

There are only 3 resorts in the Bahamas that are RCI Gold Crown. A select number of RCI affiliated resorts worldwide meet RCI's requirements for recognition and have earned the RCI Gold Crown Resort award. These resorts have attained high levels of excellence in resort accommodations, hospitality and member experience ratings as measured by RCI.

Gordon Gurnik, president of RCI said he was thrilled to recognize those achieving Gold Crown designation.

"We are thrilled to recognize those who have attained this designation and continue to work to offer top vacation destinations to our 3.7 million members worldwide." -more-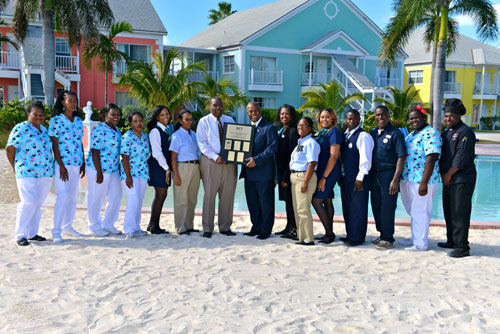 Vernon Moss, the property general manager said the Gold Crown award is a success for the management and staff.

"I am blessed with the best staff who love working here and who love meeting and helping the guests. Every day they give gold-standard service across the board, whether in housekeeping, maintenance or service, that is why we have this award," said Mr. Moss.

"We get lots of repeat business and plenty of great guest comments on Tripadvisor which is why we are currently ranked fourth in Nassau for guest satisfaction." Tripadvisor is a leading website that offers trusted reviews from real travelers.

The Sandyport Beaches Resort and Hotel is on the canal front in the upscale residential and busy commercial community of the Sandyport Marina Village on West Bay Street. Seventy two, attractive hotel rooms, studios, one, two and three bedroom suites with kitchen and living room ensure holiday and business travelers immediate home comfort needs are met, including Wi-Fi. The complex includes two ocean beaches, lagoon beach, and one of only three resort lagoon pools worldwide. Peace and quiet but with the built-in Olde Towne at Sandyport shops and restaurants and the casino and nightlife of Cable Beach, nearby.




© Copyright 2014 by thebahamasweekly.com -