Last Updated:

Feb 13, 2017 - 1:45:37 AM
---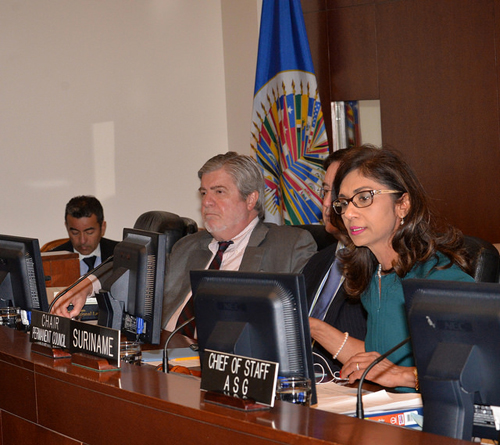 The Permanent Council of the Organization of American States (OAS) today decided by acclamation to convene the forty-fifth regular meeting of the General Assembly of the Organization on June 15 and 16 at its headquarters in Washington, DC.

The Council took this decision after Haiti declined to organize the Assembly for internal reasons, as the Haitian Minister of Foreign Affairs, Duly Brutus, expressed in a letter to the OAS Secretary General, José Miguel Insulza. In today's session, the Council agreed that in its next meeting it will define the central theme of the 45th Assembly.

The regular General Assembly will be the first instance in which the new OAS Secretary General, Luis Almagro, will participate in an official meeting with the Foreign Ministers of the member countries. Secretary General-elect Almagro will take office on May 26, a day after the end of the second term of the current OAS Secretary General, José Miguel Insulza.

On another issue, the Chair of the Council and Permanent Representative of Suriname, Niermala Badrising, speaking on behalf of the body that she presides, expressed solidarity with Chile over the floods that have affected the north of the country. Ambassador Badrising also expressed, on behalf of the Council, condolences to the families and victims of the plane that crashed last week in the French Alps. Furthermore, several delegations expressed their congratulations to the Surinamese diplomat for her term as head of the Council, which concludes tomorrow March 31.

During the meeting, the delegations of Mexico, Uruguay, Haiti, Jamaica, Belize, Bolivia, Nicaragua, Brazil, Honduras, Canada, Chile, Guatemala, Colombia, Paraguay, Peru, Dominica, the United States, Trinidad and Tobago, Ecuador and Venezuela took the floor.

A gallery of photos of the event is available here.

The video news of the event will be available here.

For more information, please visit the OAS Website at www.oas.org.











© Copyright 2015 by thebahamasweekly.com

Top of Page