The Miss Grand Bahama Beauty Pageant Organization is in process of screening young women for the 2012/2013 pageant season.
The first

screening

takes place,

December 15th

at the YMCA and subsequent screenings will be on

January 10th, 11th, and 12th, 2012

.
You could represent The Bahamas in Colombia and China!

THE SEARCH IS ON! The ideal contestant for Miss Grand Bahama is a person who will successfully fulfill the requirements set forth and will wear the crown with dignity, respect and will be a good ambassador for The Bahamas.

Do you have the characteristics to be the 2012/ 2013 Miss Grand Bahama?

A. Intelligence, Poise and Beauty

b. Communicate Effectively

c. Appearance / Overall Appearance

d. Judgment/ Common Sense

e. Attitude Motivation

f. Team work

h. Speaking Ability

i. Listening Ability

j. Confidence

The applicant must be 17 - 18 by June 2012 no more then 25 years of age. She should stand at least 5'7" tall.

She should have good moral conduct. She must never been convicted, or charge in court or is on probation. She must be a citizen or permanent resident of the country.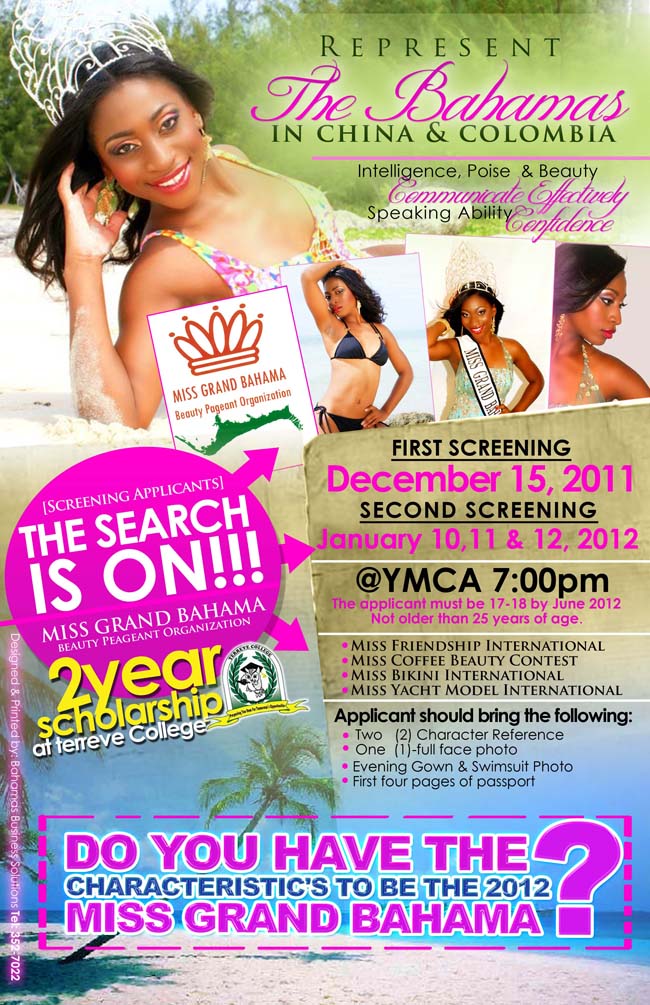 CONDUCT

1. To conduct herself properly during the period of MISS GRAND BAHAMA 2012 pageant

2. To obey and comply at all times during the period of the event and attend all functions requested by the organizer and shall not be excused from such non-attendance except informed previously.

3. To attend all rehearsals promptly when requested by the organizer.

4. To submit 3 digital photographs [ high resolution] one full- length in evening dress one full length in swimsuit.

5. Photograph submitted for this purpose are non- returnable inclusive of the official entry form.

Represent the Bahamas in China,
and Colombia, Miss Bikini international , Miss Yacht Model International , Miss Friendship International and Miss Coffee Beauty pageant .

You also win a two year scholarship to Terreve College!

Contact: missgbahama@gmail.com