From:TheBahamasWeekly.com


WANTED PERSONS
RBPF Nassau: Police make new appeal for man wanted for fraud
By Stephen Dean, RBPF
Aug 23, 2017 - 10:13:07 AM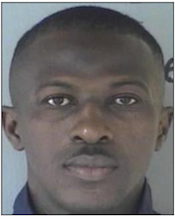 Nassau , Bahamas - Police have issued a fresh public appeal for information regarding the whereabouts of 42 – year old Kevin Durham of Monastery Park who is wanted for questioning reference to fraud.

Durham is a dark brown male, slim build, about 5' 11" to 6' 3" tall.

Police are appealing to the public to share information on any illegal/suspicious activities in their communities, no matter how small or insignificant (the tip) may seem, members of the public are urged to anonymously contact the police at 919 or crime stoppers at 328-tips (8477) (New Providence) or 1-242-300-8476 (Family Islands)

WEEKLY PREVENTION CRIME TIP - If a crime occurs – report it!

Everyone should consider it his/her responsibility to report crime. Many criminals target favorite areas and have predictable methods of operation. When you report all the facts about a crime, it helps the police assign officers in the places where crimes are occurring or where they are most likely to occur. If you don't report crime, this allows the criminal to continue to operate without interference.

In many cases, it is the information provided by victims and witnesses that leads to the arrest of a criminal. So tell the police as much as you can; no fact is too trivial. The police need the eyes and ears of all citizens.





© Copyright 2017 by thebahamasweekly.com -