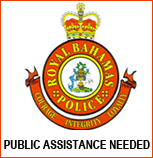 ABACO, Bahamas - Police in Abaco are searching for person(s) responsible for the stabbing death of a male in Abaco.

Reports are that on Monday 17th April 2017 shortly after 7:00am, police were called to an area in Murphy Town, where the lifeless body of a male was discovered with multiple stab wounds. The male was pronounced dead at the scene by doctor.

Police are actively investigating and are appealing to the general public for any assistance in solving this matter, to give them a call at telephone numbers in Abaco 367-2560/3673437, in Grand Bahama 350-3107 thru12, 911/919 or call your nearest police station.