From:TheBahamasWeekly.com


Royal Bahamas Police Force
RBPF Nassau: Police are investigating the country's latest homicide
By Supt. Shanta Knowles, RBPF
Jun 11, 2019 - 9:40:36 AM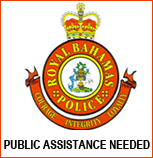 POLICE ARE INVESTIGATING THE COUNTRY'S LATEST
HOMICIDE.

Nassau, Bahamas - Police on New Providence are investigating a shooting incident, Tuesday 11th June, 2019 which has left an adult male dead.

According to reports, shortly after 12:00mid night, three security officers were on duty at a wholesale wine and spirits company on John F. Kennedy drive, when they were accosted by a group of armed men who held them at bay and robbed them of personal items, before shooting one of them, then making good their escape from the property. Paramedics were called to the scene, attempted to revive the injured man; however, he was pronounced dead on the scene. The other two security officers were not injured during this incident.

Police are appealing to members of the public, who may have information that can assist with this investigations, to contact the Central Detective Unit at 502-9991/2, Crime stoppers at 328-TIPS (8477) or the nearest police station.
Investigations are ongoing.

POLICE INVESTIGATES ARMED ROBBERIES- 1 MALE IN
CUSTODY

Police on New Providence are investigating two armed robberies which occurred overnight.

In the first incident, shortly after 9:00pm, Monday 10th June, 2019, a man armed with a firearm entered a business establishment on East Street south of Wulff Road, held an employee at bay and robbed the establishment of cash, before firing a shot and making good his escape from the store.

In the second incident, shortly after 2:00am Tuesday 11th June, 2019 a man was walking on Baillou Hill Road South, when he was approached by an armed male, who robbed him of his wallet containing cash and other items, before running away. Police officers who were in the immediate area, arrested an adult male and recovered two weapons and the victim's property. The suspect is assisting police with this investigation and is expected to be formally charged before a Magistrate Court later this week.

Investigations are ongoing.

96 FIXED PENALTY NOTICES ISSUED TO DRIVERS BY MOBILE
DIVISION OFFICERS IN PAST 24 HOUR


Officers from the Police Traffic Department conducted road checks on Gladstone Road and Coral Harbour Road. Their efforts, which were intended to educate, reduce crime, and to minimize the ability of criminals to commit criminal activity, 96 drivers being ticketed for various traffic violations including driving in excess of the speed limit and driving unlicensed and uninsured vehicles.
POLICE ARE APPEALING TO ANYONE WITH INFORMATION REGARDING THIS OR ANY CRIME, NO MATTER HOW SMALL OR INSIGNIFICANT (THE TIP) MAY SEEM, TO ANONYMOUSLY CALL POLICE AT 919 OR CRIME STOPPERS AT 328-TIPS (8477) (NEW PROVIDENCE) OR 1-242-300-8477 (FAMILY ISLANDS)
CRIME PREVENTION TIP:

In an effort to combat theft from vehicles, we
encourage vehicle owners to employ some basic preventative measures:


Always lock your vehicle, whether it is parked in a garage, your driveway or a parking lot.
Never leave your car unoccupied with the motor running.
Keep personal valuables, such as handbags, wallets, laptops, cell phones, etc., out of plain view.
Take all valuables with you or store any valuables in the trunk, if possible, but at least out of public view.
Do not leave any prescription medicine in your vehicle.
When parking, check that all doors and your trunk are locked and that you have your keys with you.
If possible, get an alarm installed. Alarms can deter thieves not only from stealing items out of your vehicle, but from stealing your vehicle as well.
Be prepared for the worst. Sometimes, even with all the preparation, a theft can still happen. It is a good idea to have an inventory of all your important items; list all serial numbers, take pictures for insurance purposes, and have copies of your cards and IDs. It never hurts to be prepared.
Report any incident where you believe someone has entered your vehicle without permission (i.e. glove box left open or items thrown about vehicle).


© Copyright 2019 by thebahamasweekly.com -