Last Updated:

Sep 8, 2018 - 7:30:56 PM
---
RBPF Nassau: Police continues investigations into the country's latest homicide and armed robberies


By Supt. Shanta Knowles, RBPF
Sep 8, 2018 - 7:21:38 AM


Email this article
Mobile friendly page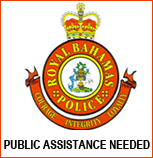 POLICE CONTINUES INVESTIGATIONS INTO THE COUNTRY'S
LATEST HOMICIDE.



Freeport, Grand Bahama - Police on the Island of New Providence are investigating a stabbing incident which has left an adult male dead and another male in serious condition in hospital.




According to reports, shortly after 1:00am, Saturday, September 8, 2018, two men were at a bar on Tonique-Williams Daring Highway, when they were approached by a male armed with a knife, who stabbed them about the body, before running into a nearby residential area. Emergency Medical Services Personnel were called to the scene to assist the victims. One of the men succumbed to his injuries on scene, while the second man was transported to hospital and is listed in serious condition.
A 37 year old male of Yellow Elder Gardens, has been taken into police custody and is assisting with this investigation.

Investigations are ongoing.

POLICE SEEK PUBLIC'S HELP IN SOLVING ARMED ROBBERIES

Police are asking members of the public, to come forth with any information they may have in solving two armed robberies, which occurred Friday, 7th September, 2018.
In the first incident, according to reports, shortly after 4:00pm, a female was walking on Breadfruit Street, Pinewood Gardens, when she was approached by a man armed with a firearm, who came from a black Honda vehicle, robbed her of her purse containing cash and other items, before getting into the vehicle with another man and speeding away.

In the second incident, according to reports, shortly after 11:00pm, a man armed with a firearm, entered a liquor store on West Bay Street, held an employee at bay and robbed the establishment of cash before running away.

Investigations are ongoing.



111 FIXED PENALTY NOTICES ISSUED TO DRIVERS BY MOBILE DIVISION OFFICERS IN PAST 24 HOUR





Officers from the Mobile Divisions conducted road checks in various parts of the island. Their efforts, which were intended to educate, reduce crime, and to minimize the ability of criminals to commit criminal activity, resulted in the arrest of ten (10) persons for outstanding criminal warrants, breech of bail conditions, damage and armed robbery, over the past 24 hours.





Additionally, 111 drivers were ticketed for various traffic violations.




BACK TO SCHOOL SAFETY TIPS FOR STUDENT-



Find an easy way to walk to and from school or the bus stop and use the same route every day.Always walk with a brother, sister, neighbor, friend or with other students. Strength is in numbers.
Do not talk to strangers or go anywhere with them or take anything from them. If a stranger approached you, tell your parents or a trusted adult such as a teacher.
Never get into a vehicle with a stranger, or with anyone without your parents' permission.
Look both ways before crossing the street.
Never run into the street.
Know your parents full name, telephone numbers and your address (street name and house number. If you have trouble remembering them, write it down and keep it ina safe place.
SAFTEY TIPS FOR MOTORISTS –
Slow down and obey ALL traffic laws and speed limits

Speed limits in school zones is 15 MPH from 7:30am to 9:00am and 2:30pm to 4:00pm

Be extra cautious around school crossing areas

When driving in school zones or in neighbourhoods, watch for children who may be in a hurry to get to school and may not be thinking of their safety

Watch for children walking in the street, especially where there are no sidewalks. Be alert and ready to stop.

Always stop for a school bus or jitney that has to stop to load or unload passengers.

Before entering a pedestrian crossing area, be sure there are no children in the lane or adjacent lanes.

When passing a parked vehicle, check for children who may run into the street

Allow children waiting at a pedestrian crossing to cross the street





© Copyright 2018 by thebahamasweekly.com

Top of Page