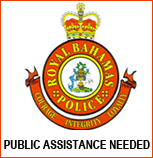 POLICE INVESTIGATES ARMED ROBBERY INCIDENT
Nassau, Bahamas - Police on the island of New Providence are seeking the public's assistance in locating a two males responsible for an armed robbery which occurred on Thursday, 21st February, 2019.

According to reports, shortly before 10:00pm, a male while at his residence Lumumba Lane, when he was approached by two men, one armed with a firearm, who robbed him of a black I-Phone 7 Plus, before getting into a silver vehicle and speeding away.

Investigations are ongoing.
DRUG SEIZURE REPORT
Police, with assistance from the public have recovered a considerable amount of Suspected Marijuana, on Thursday 21s, February 2019

According to reports, shortly before 6:00pm, Flying Squad, acting on information searched the exterior of a residence on Bonaby Alley off Kemp Road, and discovered a box containing 68 foil packages in a plastic bag and 6 additional packages packages of suspected marijuana. A group males were in the area, upon seeing the police they ran away.

No suspect was arrested. Investigations are ongoing.

112 FIXED PENALTY NOTICES ISSUED TO DRIVERS BY
MOBILE DIVISION OFFICERS IN PAST 48 HOUR
Officers from the Mobile Divisions conducted road checks in various parts of the island. Their efforts, which were intended to educate, reduce crime, and to minimize the ability of criminals to commit criminal activity, resulted in the arrest of eighteen (18) persons for outstanding criminal warrants, deceit of a police officer and shop breaking over the past 48 hours.

Additionally, 112 drivers were ticketed for various traffic violations including, driving unregistered, uninsured vehicle and 20 drivers ticketed for failing to obey traffic signals (driving through a red traffic light).

CRIME PREVENTION TIP - IF YOU SEE OR SUSPECT A CRIME IS BEING COMMITTED; PAY PARTICULAR ATTENTION TO THE FEATURES OF THE OFFENDER/S AND ANY VEHICLES INVOLVED.