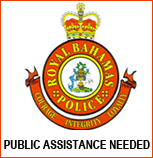 POLICE INVESTIGATES THE COUNTRY'S LATEST HOMICIDE.




Nassau, Bahamas - Police on the Island of New Providence are investigating a shooting incident which has left an adult male dead Monday, 12th November, 2018.




According to reports, shortly after 5:00pm, a male was walking on Watlins Street off Andros Avenue, when he was approached by a man armed with a firearm, who shot him before running away. The victim was transported to hospital by Paramedics, and later succumbed to his injuries.





Investigation are ongoing,





SHOOTING VICTIM IDENTIFIED




Police have officially identified the male who was shot and killed on Friday, 9th November, 2018 at Cooper's Terrace, as Stevante Sweeting, age 22 year of Pyfrom Road.





Police are appealing to anyone with information regarding these incidents, to anonymously call police at 919/911, crime stoppers at 328-TIPS (8477) the Central Detective Unit at 502-9991/2 or the nearest Police Station. All information will be held in the strictest of confidence.





ILLEGAL DRUGS RECOVERED – 1 ADULT FEMALE TOURIST


IN CUSTODY




According to reports, shortly after 10:00am, Monday, 12th November, 2018, Central Division Officers arrested an adult American female, on board the Carnival Elations cruise ship, after she was found in possession of a quantity of suspected marijuana.


The female is expected to be formally arraigned before the Magistrate Court later this week.




65 FIXED PENALTY NOTICES ISSUED TO DRIVERS BY MOBILE


DIVISION OFFICERS IN PAST 24 HOUR





Officers from the Mobile Divisions conducted road checks in various parts of the island. Their efforts, which were intended to educate, reduce crime, and to minimize the ability of criminals to commit criminal activity, resulted in the arrest of ten (10) persons for outstanding criminal warrant, stealing and immigration offences over the past 24 hours.





Additionally, 65 drivers were ticketed for various traffic violations.




THESE INVESTIGATIONS ARE ACTIVE AND POLICE ARE APPEALING TO ANYONE WITH INFORMATION REGARDING THESE INCIDENTS, NO MATTER HOW SMALL OR INSIGNIFICANT (THE TIP) MAY SEEM, TO ANONYMOUSLY CALL POLICE AT 919 OR CRIME STOPPERS AT 328-TIPS (8477) (NEW PROVIDENCE) OR 1-242-300-8477 (FAMILY ISLANDS), THE CENTRAL DETECTIVE UNIT AT 502-9991/2 OR THE NEAREST POLICE STATION.

CRIME PREVENTION TIPS. BE AWARE THAT YOU ARE A POTENTIAL VICTIM OF A CRIME. STAY ALERT AND ATTUNED TO PEOPLE AND CIRCUMSTANCES AROUND YOU.