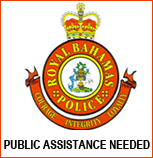 POLICE INVESTIGATES ARMED ROBBERY AND SHOOTING INCIDENT




Nassau, Bahamas - Police on New Providence are investigating a shooting incident, Thursday, 31st January, 2019, which has left an adult male with injuries.





According to reports, shortly after 7:00pm, a male was standing on the outside of his residence on John Road off Market Street, when he was approached by an armed male, who shot him and robbed him of cash before running away. The injured man was transported to hospital and is listed in stable condition.





Investigations are ongoing.




121 FIXED PENALTY NOTICES ISSUED TO DRIVERS BY


MOBILE DIVISION OFFICERS IN PAST 48 HOUR





Officers from the Mobile Divisions conducted road checks in various parts of the island. Their efforts, which were intended to educate, reduce crime, and to minimize the ability of criminals to commit criminal activity, resulted in the arrest of seventeen (17) persons for outstanding criminal warrants, stealing and fraud over the past 48 hours.





Additionally, 121 drivers were ticketed for various traffic violations
CRIME PREVENTION TIP - IF YOU SEE OR SUSPECT A CRIME IS BEING COMMITTED; PAY PARTICULAR ATTENTION TO THE FEATURES OF THE OFFENDER/S AND ANY VEHICLES INVOLVED.