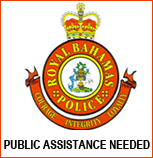 POLICE INVESTIGATES COUNTRY'S LATEST HOMICIDE




Nassau, Bahamas - Police on New Providence are appealing to members of the public for any information that can assist in solving the country's latest homicide, which occurred Tuesday, 31st July, 2018.




According to reports, shortly after 11:00pm, police responded to reports of gun shots heard in the area of Burial Ground Corner off East Street and that a male was seen running from the area. Officers discovered an unresponsive male with injuries, lying under a tree. Paramedics were called to the scene and attempted to revive the male, but were unsuccessful. He was pronounced dead.




Investigations are ongoing.





POLICE INVESTIGATES ARMED ROBBERY AND SHOOTING INCIDENT.




Police on New Providence are investigating an armed robbery and shooting incident which has left an adult male with injuries.




According to reports, shortly after 8:00pm, a male and female were walking near the canal in Coral Harbour when they were approached by a man armed with a firearm, who robbed them of cell phones. The male got into a struggle with the gunman, resulting in him being shot and both of them falling into the canal. The gunman was able make good his escape. The injured victim was taken hospital and is listed in stable condition.




Investigations are ongoing.




POLICE INVESTIGATES TRAFFIC FATALITY



Police in New Providence are investigating a traffic accident which has left an adult male dead, Tuesday, 31st July, 2018.




According to reports, shortly after 5:00pm, a traffic accident occurred on Sutton Street off Kemp Road, involving a white Ford E350 van and a red and black SYM Motor cycle. The driver of the motorcycle who sustained serious injuries, was transported to hospital, where he succumbed to his injuries. The driver of the van who was not injured, remained on scene and is assisting police with Police with this investigation.




Officers from the RBPF Traffic Division are investigating.

153 DRIVERS TICKETED BY TRAFFIC DEPARTMENT OFFICERS
IN PAST 48 HOUR

Officers from the Traffic Department conducted road checks on J.F Kennedy Drive and on Frank Watson Boulevard, over the past 48 hours. Their efforts, which were intended to educate drivers and enforce all traffic laws, resulted in 123 drivers were cited for driving in excess of the speed limit, while 30 drivers were cited for other traffic infractions.





Police are encouraging motorist to obey all traffic laws.



Don't drink, text or utilize anything that will distract you while driving.
Obey the speed limits and traffic signal lights.
Be alert and ready to stop. Look out for people walking on the street especially where there are no sidewalks.
Be extra cautious around pedestrian crossings, slow down and watch out for children on the streets.
Do not overtake. Stay in your lane
Remember to slow down and drive for both you and others.
POLICE ARE APPEALING TO ANYONE WITH INFORMATION REGARDING ANY CRIME, NO MATTER HOW SMALL OR INSIGNIFICANT (THE TIP) MAY SEEM, TO ANONYMOUSLY CALL POLICE AT 919 OR CRIME STOPPERS AT 328-TIPS (8477) (NEW PROVIDENCE) OR 1-242-300-8477 (FAMILY ISLANDS)