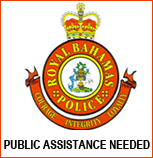 POLICE INVESTIGATES SHOOTING INCIDENT




Nassau, Bahamas - Police on the Island of New Providence are seeking the public's assistance in identifying and locating the person responsible for a shooting incident, 14th February, 2019, which left an adult male in hospital.




According to reports, shortly after 3:00pm, a male presented himself to hospital with gunshot injuries to his body. Information is that he was in the area of a bar on Dumping Ground Corner off Poinciana Drive, when he was shot. The injured man is detained in hospital in stable condition.





Investigations are ongoing.





DANGEROUS DRUGS RECOVERED - 1 MALE IN CUSTODY




Police have recovered a quantity of dangerous drugs, Thursday, 14th February, 2019 and have taken an adult male into custody.




According to reports, shortly after 3:00pm, Flying Squad Officers, acting on information conducted a search of a home on Cedric Griffin Street, Montel Heights and recovered a quantity of suspected marijuana. An adult male who was present at the time of the search, was taken into custody.





He is expected to be formally charged before a magistrate court later today.




88 FIXED PENALTY NOTICES ISSUED TO DRIVERS BY MOBILE


DIVISION OFFICERS IN PAST 48 HOUR





Officers from the Mobile Divisions conducted road checks in various parts of the island. Their efforts, which were intended to educate, reduce crime, and to minimize the ability of criminals to commit criminal activity, resulted in the arrest of thirteen (13) persons for outstanding criminal warrants, assault, fraud and stealing over the past 48 hours.