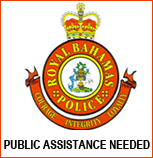 POLICE INVESTIGATES SHOOTING INCIDENT




Nassau, Bahamas - Police on the Island of New Providence are seeking the public's assistance in identifying and locating the persons responsible for a shooting incident, which occurred overnight, which left an adult male in hospital.




According to reports, shortly after 7:00pm, Sunday, 3rd February, 2019, a man was standing at a car wash on Balfour Avenue, when a gray car pulled up. The occupants of the car opened fire in his direction, hitting him about the body before speeding away. The injured man was transported to hospital where he is listed in serious condition. No one else was injured during this incident.





Investigations are ongoing.




ILLEGAL FIREARM RECOVERED





Police have recovered yet another illegal firearm from the streets of New Providence, Sunday, 3rd February, 2019.




According to reports, shortly after 8:00pm Western Division Officers, acting on information conducted a search of a bushy area in Sandy Port, West Bay Street and recovered a .40 Austria Pistol.




No arrest was made in this incident.




CRIME PREVENTION TIP - IF YOU SEE OR SUSPECT A CRIME IS BEING COMMITTED; PAY PARTICULAR ATTENTION TO THE FEATURES OF THE OFFENDER/S AND ANY VEHICLES INVOLVED.