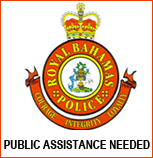 POLICE INVESTIGATES SHOOTING INCIDENT




Nassau, Bahamas - Police on the Island of New Providence are seeking the public's assistance in identifying and locating the person responsible for a shooting incident Tuesday, 29th January, 2019, which left two adult males with injuries.





According to reports, shortly after 10:00pm, a group of men were standing on a porch of a residence on East Street, south, when they were approached by a male armed with a firearm, who opened fire in their direction, injuring two of them before running away. The injured men were transported to hospital, where they are listed in serious, but stable condition.





Police are appealing to members of the public who may have information concerning this incident, to contact Crime Stoppers at 328-TIPS (8477) or the Central Detective Unit at 502-9991/2.




Investigations are ongoing.





93 FIXED PENALTY NOTICES ISSUED TO DRIVERS BY MOBILE


DIVISION OFFICERS IN PAST 24 HOUR





Officers from the Mobile Divisions conducted road checks in various parts of the island. Their efforts, which were intended to educate, reduce crime, and to minimize the ability of criminals to commit criminal activity, resulted in the arrest of nine (9) persons for outstanding criminal warrants, threats of harm and possession of dangerous drugs over the past 24 hours.





Additionally, 93 drivers were ticketed for various traffic violations





CRIME PREVENTION TIP - IF YOU SEE OR SUSPECT A CRIME IS BEING COMMITTED; PAY PARTICULAR ATTENTION TO THE FEATURES OF THE OFFENDER/S AND ANY VEHICLES INVOLVED.