Last Updated:

Jan 13, 2018 - 11:25:46 PM
---
RBPF Nassau: Police seek public ' s help in solving armed robberies - Police investigates shooting incident - 45 drivers ticketed


By Supt. Shanta Knowles, RBPF
Jan 13, 2018 - 8:00:14 AM


Email this article
Mobile friendly page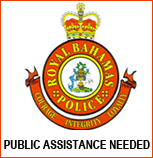 POLICE SEEK PUBLIC ' S HELP IN SOLVING ARMED ROBBERIES

Police are asking the public to come forth with any information they may have in solving three Armed Robberies which occurred on Friday, 12th January, 2018.

In the first incident, shortly before 5:00pm, a woman was at Shrimp Road off Carmichael Road, when she was approached by a male armed with a firearm, who robbed her of cash and other items before fleeing on foot.

In the second incident, shortly after 7 :00pm, a man armed with a firearm entered a convenience store located at Miller's heights , and robbed an employee of cash before fleeing on foot.

In the final incident, shortly after 9: 00pm a man was walking on Robinson Road , when he was held up and robbed of cash and other items by three men armed with firearms, who fled on foot.

Investigations into these matters are ongoing.

POLICE INVESTIGATES SHOOTING INCIDENT

Police are investigating a shooting incident that has left one man with injuries on Friday, 12wth January, 2018.

Reports are that shortly before 7:00pm, a man and a woman were walking on Cumberbatch Alley, off Wulff Road when they were approached by two armed men, who shot the ma le before speeding away on a motor bike. The victim was taken to a hospital where he is listed in stable condition.

Investigations are ongoing.

45 DRIVERS TICKETED BY MOBILE DIVISION OFFICERS IN PAST 24 HOUR

Officers from the Mobile Division conducted road checks in various parts of the island. Their efforts, which were intended to reduce crime, and to minimize the ability for criminals to commit criminal activities, has resulted in the arrest of 12 person for outstanding criminal warrants, assault and possession of dangerous drugs, over the past 24 hours.

Additionally, 45 drivers were ticketed for various traffic violations.

P OLICE ARE APPEALING TO ANYONE WITH INFORMATION REGARDING ANY CRIME , NO MATTER HOW SMALL OR INSIGNIFICANT (THE TIP) MAY SEEM, TO ANONYMOUSLY CALL POLICE AT 919 OR CRIME STOPPERS AT 328 - TIPS (8477 ) (NEW PROVIDENCE) OR 1 - 242 - 300 - 847 7 (FAMILY ISLANDS)

PREVENTION CRIME TIP – BE AWARE THAT YOU ARE A POTENTIAL VICTIM OF A CRIME. STAY ALERT AND 
 ATTUNED TO PEOPLE AND CIRCUMSTANCES AROUND YOU.







© Copyright 2018 by thebahamasweekly.com

Top of Page