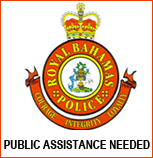 POLICE SEEK PUBLIC'S HELP IN SOLVING ARMED ROBBERY
Nassau, Bahamas - Police are asking members of the public to come forth with any information they may have in solving an armed robbery, which occurred Wednesday, 9th May, 2018.

According to reports, shortly after 9:00pm a male was standing in front of his residence on Bahama Avenue, when he was approached by two men armed with firearms, who robbed him of a grey 2007 Honda Accord license #AQ1541.

Investigations into this matter are ongoing
POLICE INVESTIGATES SHOOTING INCIDENT

Police are investigating the circumstances surrounding a shooting incident which occurred on Wulff Road and Kemp Road shortly after 4:00am, Thursday. 10th May, 2018.

Reports are that a male received gunshot injuries to his stomach. He was transported to hospital and is listed in serious but stable condition.

Investigations are ongoing.