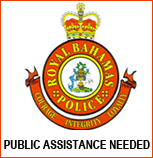 POLICE SEEK PUBLIC'S HELP IN SOLVING COUNTRY'S LATEST HOMICIDES




Nassau, Bahamas - Police on the Island of New Providence are investigating a shooting incident Tuesday, 12th June, 2018 which has left one man dean and another in hospital.





According to reports, shortly after 5:00pm, Tuesday, 12th June, 2018, police responded to Cox Street, Fox Hill, after receiving information that two men had been shot. Further information revealed that a group of men were sitting under a tent in front of a home, when a silver vehicle pulled up. The occupants of this vehicle opened fire on the men, injuring two of them, before speeding off. Paramedics were called to the scene, attempted to revive one of the men, but were unsuccessful. He was pronounced dead on the scene. The second victim was transported to hospital, where he is listed in critical condition.




Investigations are ongoing.





36 DRIVERS TICKETED BY MOBILE DIVISION OFFICERS IN PAST 48 HOUR





Officers from the Mobile Divisions conducted road checks in various parts of the island. Their efforts, which were intended to educate, reduce crime, and to minimize the ability of criminals to commit criminal activity, resulted in the arrest of 8 person for outstanding criminal warrants, vagrancy and breach of a the Bail Act, over the past 48 hours.




Additionally, 36 drivers were ticketed for various traffic violations




POLICE ARE APPEALING TO ANYONE WITH INFORMATION REGARDING THIS OR ANY CRIME, NO MATTER HOW SMALL OR INSIGNIFICANT (THE TIP) MAY SEEM, TO ANONYMOUSLY CALL POLICE AT 919 OR CRIME STOPPERS AT 328-TIPS (8477) (NEW PROVIDENCE) OR 1-242-300-8477 (FAMILY ISLANDS)


SAFETY TIPS – TAKE A STAND AGAINST ILLEGAL FIREARMS BY COOPERATING WITH THE POLICE IN PROVIDING INFORMATION REGARDING THE WHEREABOUTS OF ANY ILLEGAL FIREARM.