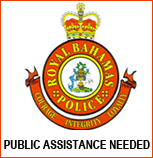 POLICE SEEK PUBLIC'S HELP IN SOLVING COUNTRY'S
LATEST HOMICIDES
Nassau, Bahamas - Police on the Island of New Providence are investigating a shooting incident Tuesday, 28th August, 2018 which has left an adult male dead.

According to reports, shortly after 11:00pm, a man was sitting in his vehicle outside a bar in Kennedy Subdivision off Soldier Road, when he was approached by a group of men, one armed with a firearm, who opened fire on him, hitting him about the body, before making good their escape. The victim was transported to hospital where he later succumbed to his injuries.

Investigations are ongoing.
MURDER ARRAIGNMENT
At 12:00 noon on Wednesday, 29th August, 2018, a twenty-six (26) year old male of New Providence will be arraigned in the Magistrate's Court on Nassau Street, in connection with the recent Murder of Alvin Strachan, who was killed on Friday, 24th August, 2018 at East Street and Balfour Avenue.
ILLEGAL DRUGS SEIZED, 1 FEMALE IN CUSTODY
The enduring and dedicated work of the men and women of the Royal Bahamas Police Force has led to a quantity of dangerous drugs being taken from the streets of New Providence.
Shortly after 6:00pm, Tuesday, 28th August, 2018 Mobile Division Officers acting on information went to a convenience store on Zion Boulevard, where they conducted a search of a female and recovered from her a quantity of suspected marijuana. She was taken into custody and is expected to be arraigned before the Magistrate Court later this week.

POLICE ARE APPEALING TO ANYONE WITH INFORMATION REGARDING THIS INCIDENT, NO MATTER HOW SMALL OR INSIGNIFICANT (THE TIP) MAY SEEM, TO ANONYMOUSLY CALL POLICE AT 919 OR CRIME STOPPERS AT 328-TIPS (8477) (NEW PROVIDENCE) OR 1-242-300-8477 (FAMILY ISLANDS)

BACK TO SCHOOL SAFETY TIPS FOR STUDENT-
Find an easy way to walk to and from school or the bus stop and use the same route every day.Always walk with a brother, sister, neighbor, friend or with other students. Strength is in numbers.
Do not talk to strangers or go anywhere with them or take anything from them. If a stranger approached you, tell your parents or a trusted adult such as a teacher.
Never get into a vehicle with a stranger, or with anyone without your parents' permission.
Look both ways before crossing the street.
Never run into the street.
Know your parents full name, telephone numbers and your address (street name and house number. If you have trouble remembering them, write it down and keep it ina safe place.
BACK TO SCHOOL SAFETY TIPS FOR MOTORIST –
Slow down and obey ALL traffic laws and speed limit.
Speed limit in school zones are 15MPH from 7:30am to 9:00am and from 2:30pm to 4:00pm
Be extra cautious around school crossing areas
When driving in school zones or neighborhoods, watch for children who may be in a hurry to get to school and may not be thinking of their safety
Watch for children walking in the street, especially where there are no sidewalks. Be alert and ready to stop.
Always stop for a school bus or jitney that has to stop to load or unload passengers.
Before entering a pedestrian crossing area, be sure there are no pedestrian crossing, if so, stop and allow them to cross.
When passing a parked vehicle, check for children who may run into the street
Allow children waiting at a pedestrian crossing to cross the street.