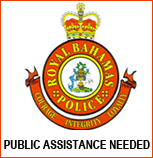 POLICE INVESTIGATES ARMED ROBBERY INCIDENT




Police on the island of New Providence are seeking the public's assistance in locating two men responsible for an armed robbery which occurred on Tuesday, 8th January, 2019.




According to reports, shortly after 7:00pm, a man was walking on Collins Avenue in the area of Plantol Street, when he was approached by two armed men, who robbed him of his wallet which contained cash and other personal documents, before running away.





Investigations are ongoing.




SUSPECTS TO BE CHARGED




Police are pleased to announce that a 32 year old female and a 23 year old female will be formally charged in a Magistrate Court at 12:00 noon on Wednesday, 9th January, 2019 in connection with a Stealing by Reason of Service investigation.





The Royal Bahamas Police Force thanks members of the public for assisting with information, which has led to the arrest of a suspects in this matter. We are encouraged by your support and ask that you continue to partner with us as we work diligently to create safer communities.





ILLEGAL FIREARM AND DANGEROUS DRUGS RECOVERED





According to reports, shortly before 4:00pm, Tuesday, 8th January, 2019, Flying Squad officers and Marines from the Royal Bahamas Defense Force, acting on information, conducted a search of an abandon building on Douglas Road, Gambier Village, and recovered a .25 pistol, four (4) rounds of ammunition and a quantity of suspected marijuana.

No one was arrested in connection with this matter. Investigations are ongoing.





63 FIXED PENALTY NOTICES ISSUED TO DRIVERS BY MOBILE


DIVISION OFFICERS IN PAST 48 HOUR





Officers from the Mobile Divisions conducted road checks in various parts of the island. Their efforts, which were intended to educate, reduce crime, and to minimize the ability of criminals to commit criminal activity, resulted in the arrest of sixteen (16) persons for outstanding criminal warrants, threats of harm and possession of dangerous drugs over the past 48 hours.





Additionally, 63 drivers were ticketed for various traffic violations.





PREVENTION CRIME TIP – Credit card fraud protection tips

Here are some tips on how to prevent credit and debit card fraud.




Don't give your account number to anyone on the phone unless you've made the call.
Carry your cards separately from your wallet. It can minimize your losses if someone steals your wallet or purse.
During a transaction, keep your eye on your card. Make sure you get it back before you walk away.
Open your bills promptly — or check them online often — and reconcile them with purchases.Report any questionable charges to the card issuer.
Notify your card issuer if your address changes or if you will be traveling.
Don't write your account number on the outside of an envelope.
Clear your logins and passwords. This is especially important if you've been working on a public computer.
Be alert for phishing, a trick in which spam or pop-ups mimic legitimate banks or businesses to obtain your personal information, which they use to access your accounts. Always verify that you're on a familiar Web site with security controls before entering personal data.