From:TheBahamasWeekly.com


Royal Bahamas Police Force
Woman robbed in her home on London Ave, Nassau
By Stephen Dean, RBPF
Mar 19, 2017 - 12:05:20 PM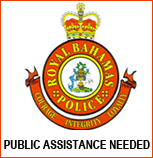 Nassau, Bahamas - Police are seeking the public's help in locating two men responsible for an armed robbery that occurred on Saturday 18th March 2017.

Reports are that shortly after 3:00pm, two men armed with a handgun entered a home located on London Avenue, where they robbed a woman of a Rolex watch and cash before fleeing on foot.

Investigations are ongoing.

ANYONE WITH INFORMATION ABOUT ANYONE ENGAGING IN CRIMINAL ACTIVITY, NO MATTER HOW SMALL OR INSIGNIFICANT (THE TIP) MAY SEEM, IS URGED TO ANONYMOUSLY CONTACT THE POLICE AT 919 OR CRIME STOPPERS AT 328-TIPS (8477) (NEW PROVIDENCE) OR 1-242-300-8476 (FAMILY ISLANDS)

CRIME PREVENTION TIP OF THE WEEK

IF YOU SEE OR SUSPECT A CRIME IS BEING COMMITTED; PAY PARTICULAR ATTENTION TO THE FEATURES OF THE OFFENDER/S AND ANY VEHICLES INVOLVED.


© Copyright 2017 by thebahamasweekly.com -