From:TheBahamasWeekly.com


Ross University
Ross University announces 2009 PRIDE Award recipient, Meg Osman, Director of Student Services, Bahamas
By Alyvonnetta Levarity
Jan 19, 2010 - 11:51:00 PM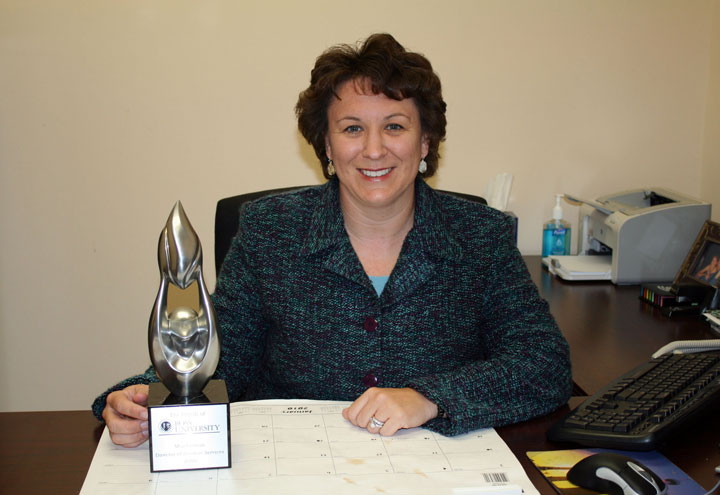 Freeport, Grand Bahama - Ross University Bahamas congratulates Meg Osman, Director of Student Services, Bahamas on becoming a recipient of the prestigious PRIDE Award.

Meg

Osman

began her employment at Ross University in 2008 with the immediate task of successfully implementing a student support function at the new clinical site in two short months.

Meg

embraced this challenge with enthusiasm, professionalism, and fortitude. She worked tirelessly with her team to ensure that the implementation of the Student Services organizational structure in Freeport was executed flawlessly. In addition,

Meg

also addressed and handled numerous other critical functions for students.



"I am very honored to have received this award. It is a pleasure to work at Ross University with such wonderful, collaborative and supportive faculty, staff and students,

" said Mrs. Osman.

Established 27 years ago to recognize excellence in student recruitment, the Professional Recognition of Integrity, Dedication and Excellence-or PRIDE-program is the highest form of recognition at Advanced Academics, Apollo College, Becker Professional Review, Chamberlain College of Nursing, DeVry University, Ross University and Western Career College for associates who perform at the maximum level. The PRIDE award is given to those who go the extra mile to execute their responsibilities. Each of this year's recipients exemplifies the very best in personal integrity and commitment.


Ross University was founded in 1978 and is a provider of medical and veterinary education offering doctor of medicine and doctor of veterinary medicine degree programs. The School of Medicine is located in Dominica, West Indies, and the Freeport, Grand Bahama campus recently opened in January 2009. The School of Veterinary Medicine is located in St. Kitts. Ross University's administrative offices are located in North Brunswick, NJ. Ross University has more than 9,000 alumni with M.D. and D.V.M. degrees. http://www.rossu.edu/


© Copyright 2010 by thebahamasweekly.com -