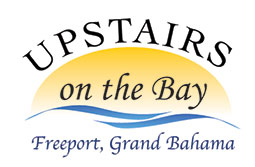 Upstairs on The Bay Presents
Valentine's Day Menu
offered Friday through Tuesday:
Exotic Strawberry Caesar Salad
Mouthwatering 12 oz. Rib Eye Steak
Topped with Crispy Fried Onions & a Burgundy Wine Sauce
Served with your choice of
Alfredo Pasta
or
Roasted Pepper Mash
&
Asparagus with Roasted Almonds
Tempting Raspberry Chocolate Mousse
A Glass of Red or White Wine
$47.95 incl. VAT
Add a Grilled Lobster Tail in White Wine Sauce
$12.00 incl. VAT
Reservations recommended.
Call 373-3622
All prices include VAT.
15% gratuity will be added for your convenience
We're located in Freeport, Grand Bahama.