From:TheBahamasWeekly.com


Sir Charles Hayward Library
What's NEW at the Sir Charles Hayward Library - October 2013
By Shanreikah Gardiner, GBPA
Oct 30, 2013 - 9:20:21 AM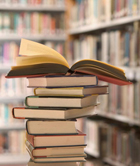 Grand Bahama Island, Bahamas - Here is what's new as of October 2013 related to books and DVDs new to the adult Library. You can check previous lists for DVD's, Reference and other types of books.

Situated in the downtown area, on Mall Drive, the lending library is most definitely a pillar of the community. The Sir Charles Library stands next to the Rand hospital directly across from the Port Authority building.

FICTION

BEST OF ALL (Urban Fiction) – Miller, Vanessa

FAMILY BUSINESS, THE (Urban Fiction) – Weber, Carl

GIRL YOU LEFT BEHIND, THE – Moyes, Jojo

HUSBAND'S SECRET, THE – Moriarty, Liane

LENOBIA'S VOW (Fantasy) – Cast, P.C. & Kristin

LOVING MR. WRIGHT Bk. 2 (Urban Christian Fiction) – Barrett, Brenda

NEFERET'S CURSE (Fantasy) – Cast, P.C. & Kristen

PARIS WAS THE PLACE – Conley, Susan

PRIVATE SINS Bk. 1 (Urban Christian Fiction) – Barrett, Brenda

ROSE HARBOR IN BLOOM – Macomber, Debbie

TRUE LOVE – Deveraux, Jude

TRULY YOURS (Urban Fiction) – Mello, Deborah Fletcher



MYSTERY


BONES OF THE LOST – Reichs, Kathy

DEADLINE – Brown, Sandra

DOING HARD TIME – Woods, Stuart

FAMILY WAY, THE – Bowen, Rhys

FINAL CUT, THE – Coulter, Catherine

GONE – Patterson, James & Michael Ledwidge

HOLY ORDERS – Black, Benjamin

JUST ONE EVIL ACT – George, Elizabeth

KILLER HONEYMOON – McKevett, G. A.

LET ME GO – Cain, Chelsea

NEVER GO BACK – Child, Lee

OCTOBER LIST, THE – Deaver, Jeffery

POSTCARDS FROM THE DEAD – Childs, Laura

SECOND WATCH – Jance, J. A.

SILENCING EVE – Johansen, Iris

SOMETHING BORROWED, SOMEONE DEAD – Beaton, M.C.

STORM FRONG – Sandford, John

THANKLESS IN DEATH – Robb, J.D.

W IS FOR WASTED – Grafton, Sue



NON-FICTION


BREAK OUT – Osteen, Joel

FAITHFUL GARDENER – Estes, Clarissa Pinkola

GOD IS NOT MAD AT YOU – Meyer, Joyce

UNTIE THE STRONG WOMAN – Estes, Clarissa Pinkola

BIOGRAPHY

COMING CLEAN – Miller, Kimberly Rae



DVDS



IRON MAN 3 (2013) Rated: PG-13

PACIFIC RIM (2013) Rated: PG-13

PAIN & GAIN (2013) Rated: R

STAR TREK INTO DARKNESS (2013) Rated: PG-13
About The Sir Charles Hayward Library


© Copyright 2013 by thebahamasweekly.com -