From:TheBahamasWeekly.com


Sir Charles Hayward Library
What's NEW at the Sir Charles Hayward Library - September 2013
Sep 8, 2013 - 2:03:37 PM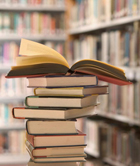 Grand Bahama Island, Bahamas - Here is what's new as of September 2013 related to books and DVDs new to the adult Library. You can check previous lists for DVD's, Reference and other types of books.
Situated in the downtown area, on Mall Drive, the lending library is most definitely a pillar of the community. The Sir Charles Library stands next to the Rand hospital directly across from the Port Authority building.
FICTION

AFTER WHAT YOU DID – McCLAIN-WATSON, Teresa

AND THE MOUNTAINS ECHOED – HOSSEINI, Khaled

BEFORE REDEMPTION – McCLAIN-WATSON, Teresa

DINO AND NIKKI AFTER REDEMPTION - McCLAIN-WATSON, Teresa

DOIN' ME – CAMPBELL, Wanda

HEIST, THE – EVANOVICH, Janet

I'D RATHER BE WITH YOU - MORRISON, Mary B.

IMPOSSIBLE LIVES OF GRETA WELLS, THE – GREER, Andrew Sean

IN TIMES OF TROUBLE – SANDERS, Yolonda T.

IRRESISTIBLE BLUEBERRY BAKESHOP & CAFÉ – SIMSES, Mary

ISTANBUL PASSAGE – KANON, Joseph

LOST DAUGHTERS – MONROE, Mary

MAYA'S NOTEBOOK – ALLENDE, Isabel

NO CONDEMNATION - CONGRESS, Dr. Vivi Monroe

STAY CLOSE – COBEN, Harlan

SWEET SALT AIR – DELINSKY, Barbara



MYSTERY

BOMBSHELL – COULTER, Catherine

BOOKMAN'S TALE, THE – LOVETT, Charlie

CUCKOO'S CALLING, THE – GALBRAITH, Robert

ENGLISH GIRL, THE – SILVA, Daniel

HIGHWAY, THE – BOX, C.J.

HUNTING EVE – JOHANSEN, Iris

KILL ROOM, THE – DEAVER, Jeffery

LEAVING EVERYTHING MOST LOVED – WINSPEAR, Jacqueline

LIGHT IN THE RUINS, THE – BOHJALIAN, Chris

MISTRESS – PATTERSON, James

NIGHT IS WATCHING, THE – GRAHAM, Heather

OPHELIA CUT, THE – LESCROART, John

SLEIGHT OF HAND – MARGOLIN, Phillip

TELL ME – JACKSON, Lisa

UNSEEN – SLAUGHTER, Karin



NON-FICTION

FAITHFUL GARDENER, THE – ESTES, Clarissa Pinkola

LAWRENCE IN ARABIA – ANDERSON, Scott

MUTANT MESSAGE DOWN UNDER – MORGAN, Marlo



DVDs


G.I. JOE RETALIATION (2013) - RATED PG-13

HERE COMES THE BOOM (2012) – RATED PG

JACK THE GIANT SLAYER (2013) – RATED PG-13

OLYMPUS HAS FALLEN (2013) – RATED R

OZ THE GREAT AND POWERFUL (2013) – RATED PG

THE IMPOSSIBLE (2012) – RATED PG-13

TYLER PERRY'S TEMPTATION (2013) –RATED PG-13
About The Sir Charles Hayward Library