Nassau, Bahamas - Under the theme "Solving Tomorrow's Problems Today", Junior Achievement Bahamas recently held its 38th Annual Awards ceremony where the outstanding accomplishments of the achievers, volunteers and counselling firms for the 2016/2017 year were honoured.

Raymond Winder, Chairman of JA Bahamas stated, "This year's theme speaks directly to the way of the 21st Century. No doubt we are living in some very unique and challenging times. The world continues to change at the speed of thought, advancing at a rate that requires as much preparation as it does information. Notwithstanding challenges that we face, after 38 years in existence, JA Bahamas remains the number one youth programme in the country. The success of the programme is measured directly by the impact it has had on tens of thousands of alumni (and supporters), many of whom are now distinguished in their careers and businesses."

Approximately six months were spent fostering youth innovation, financial literacy, entrepreneurship, college preparedness and work readiness. Key events and activities of the program included Job Shadow Day, College and Career Fair, STEM Summit, Speech Competition and BahamaJAC. The culmination of all of these events and the hard work and commitment of all participants was the annual awards ceremony.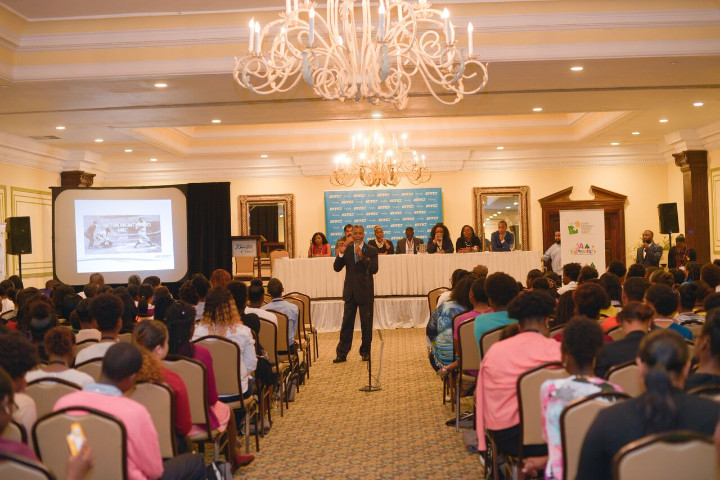 The most coveted prize of the night, Most Distinguished Achiever went to Enrique Pyfrom, President of the company Bahamas First Anchors. The eleventh grade student of St. Anne's School received a cash scholarship of $8,000 from Cable Bahamas.

Ms. Tammy Lecky, Programme Mananager for JA Bahamas said, "As a non-profit organization, Junior Achievement Bahamas has the task of fundraising so that it can continue its efforts in youth development. In order to meet the mission and provide services for the community, they rely on the generosity of individuals and businesses like Cable Bahamas.On behalf of Junior Achievement, we wish to express our sincerest gratitude to Cable Bahamas for their generous cash scholarship donation of $8000.00 for the 2017 JA New Providence Most Distinguished Achiever, Enrique Pyfrom from St. Anne's School. Without the assistance and support of community-minded organizations, we cannot contribute to the youth advancement of our country. Again, we thank you Cable Bahamas!'

The second place winner in this category was Malachi Munroe President of JA Company KPMG Key$ who is a twelfth grade student of Queen's College. Tying for third place were Makayla Hanna also of Bahamas First Anchors and a twelfth grade student of Kingsway Academy and Patria Symonette President of JA Company Commonwealth FEVER and a twelfth grade student of Queen's College. They all also received cash scholarships prizes.

All of this would not be made possible without the support of the eight JA Company counselling firms: Bahamas First,BTC Everyday,Commonwealth Bank,Deloitte,KPMG,The National Insurance Board,Scotiabank and Sunshine Finance.


Ms. Lecky continues, "JA New Providence congratulates the 2017 JA Company of the Year, Bahamas First Anchors and all award recipients for displaying leadership, entrepreneurial drive and creativity, throughout the 25 week collaborative environment of the Company Programme. JA Bahamas continues to be grateful for the commitment shown by our corporate sponsors and volunteers, who recognize the importance of promoting financial literacy for our future business leaders and entrepreneurs, who will undoubtedly shape and enrich the economic future of The Bahamas."

Junior Achievement Bahamas is a non-profit economic programme for young people and its missions is to promote economic literacy and understanding of business and competitive free-enterprise among young Bahamians, the future leaders of The Bahamas. Currently the programmes facilitate students from K5 - Grade 12 and have been proven to helpstudents understand the importance of financial literacy and how it plays a role in every community. Our successful programmes have been operated in various islands across The Bahamas;including Abaco, Andros, Eleuthera, Berry Islands, Cat Island, Grand Bahama, New Providence andMayaguana.