Nassau, Bahamas - Starbucks joined forces with the Bahamas National Trust to take Action for the Planet on Saturday, April 21st by clearing invasive cattails from Harrold and Wilson Ponds National Park. "Starbucks staff and management were pleased to volunteer and help the BNT at Harrold and Wilson Ponds National Park " said Dino Matsas, Starbucks Operations Manager. " We like for our staff to get actively involved with the organizations we support and volunteering at the park helped us understand the role of the BNT as our national parks manager and experience some of the challenges they face in managing our protected areas."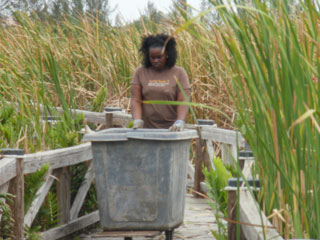 This was the first activity that Starbucks has planned with the BNT. The team will be at The Retreat on April 28th, helping to generally clean and clear the paths at the BNT headquarters on Village Road as part of their continuing Earth Day commitment to take positive action for the planet. A Special Celebration of the Acts of Green Challenge will be held immediately following the cleanup.
Harrold and Wilson Ponds National Park , a 250 acre freshwater wetland was created in 2002 and the BNT added boardwalks and interpretive signage in 2007. The park is a popular stop for birdwatcher as more than 100 species have been recorded at the wetland which is one of 39 Important Bird Areas in The Bahamas.
According to Lindy Knowles, Science Officer for the BNT, " The cattail problem is caused by nutrient runoff from activities surrounding the ponds. Cattails if controlled help with storm drainage and provide habitat for wading birds but in the case of Harrold and Wilson Ponds the high nutrient runoff has caused an imbalance in the natural system and we are having to implement a habitat management programme which is basically removing cattails from the system.'"
The BNT is encouraging the public to take positive action on Earth Day by committing an Act of Green. "We want to encourage our members and friends to take at least one action that will help our planet , " said Natasha Wright Director of Development. " Plant a tree, pledge to turn out lights, or join an organization like the Bahamas National Trust. You can post your act for the planet with a picture on the BNT – Acts of Green Challenge Facebook Page".