From:TheBahamasWeekly.com


Sports
2013 Battle 4 Atlantis: 3rd Annual Div. I men's pre-season tournament to air on NBC and AXS TV
By Rachela Tirelli
Jul 30, 2013 - 10:22:12 AM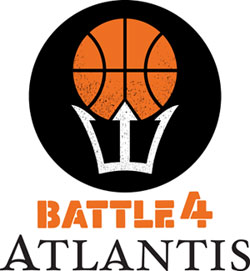 Watch the Battle for Victory November 28-30 on AXS TV and NBC Sports Network

PARADISE ISLAND, BAHAMAS – Eight teams will participate in the third annual Battle 4 Atlantis, the richest Division I Men's pre-season college basketball tournament on November 28-30, 2013. The pulse-pounding event will be televised live on NBC Sports Network and AXS TV from the 3,900-seat arena at the famed Atlantis, Paradise Island resort in The Bahamas. The 2013 Battle 4 Atlantis field combines teams with 191 NCAA Tournament appearances, 25 Final Four appearances and 5 National Championships and features University of Kansas, Villanova University, University of Tennessee, University of Southern California, University of Iowa, Xavier University, Wake Forest University, and University of Texas at El Paso.

This talented field will battle through a 12-game tournament televised live to sports fans nationwide. Starting November 28, AXS TV will air coverage of the tournament at 1:00 PM EST and 3:30 PM EST, while NBC Sports will broadcast the daily 7:00 PM and 9:30 PM games. AXS TV is available nationally on DIRECTV (channel 306), Dish (channel 131), AT&T U-Verse (channel 1106), Verizon FiOS (channel 569) as well as Charter, Comcast Xfinity, Insight, Suddenlink and other TV providers.

The Battle 4 Atlantis first game brackets, beginning November 28, are as follows: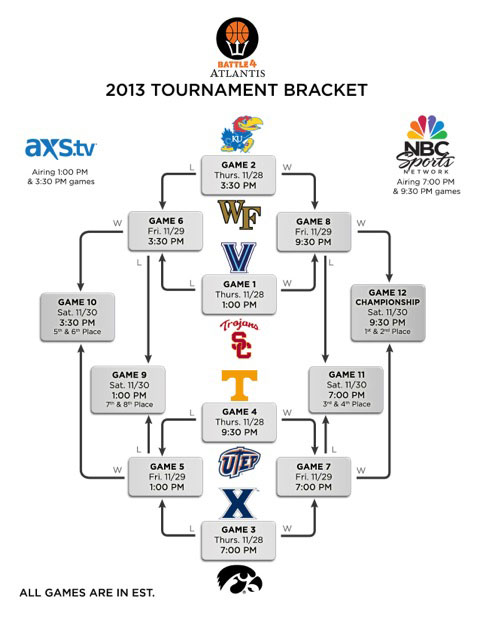 Game 1: Villanova University vs. University of Southern California (live at 1:00 PM EST on AXS TV)

Game 2: University of Kansas vs. Wake Forest University (live at 3:30 PM EST on AXS TV)

Game 3: Xavier University vs. University of Iowa (live at 7:00 PM EST on NBC Sports Network)

Game 4: University of Tennessee vs. University of Texas at El Paso (live at 9:30 PM EST on NBC Sports Network)

In addition to the world's largest open-air marine habitat, Atlantis also boasts a half-million dollar arena with state-of-the-art regulation facilities, located at the epicenter of the famous resort. Atlantis offers guests lavish accommodations, a Mandara Spa, and a 141-acre waterscape with slides and rivers, as well as the largest casino in the Caribbean and a variety of celebrity-chef dining – including Bobby Flay's Mesa Grill and Todd English's newly opened Olives.

Following last year's Battle 4 Atlantis Championship game between Duke University and University of Louisville, Duke's Head Coach Mike Krzyzewski expressed his satisfaction with the tournament: "We are ecstatic about the win. It was an endurance race for both teams. It was a heck of a tournament for us. We had great hospitality. Everyone you meet has a smile on their face and a warm heart."

"We are excited to welcome the 2013 Battle 4 Atlantis teams to Paradise. Battle 4 Atlantis continues to be the leading pre-season college basketball tournament and will be for many years to come," says George Markantonis, President & Managing Director, Atlantis, Paradise Island.

Battle 4 Atlantis ticket and travel packages can be booked by calling 1-800-Atlantis or Battle4Atlantis.com.




© Copyright 2013 by thebahamasweekly.com -