From:TheBahamasWeekly.com


Sports
Bahamas Scores 'Marketing Touchdown' From Popeyes Bahamas Bowl
By Kendea Smith, MOT
Dec 26, 2014 - 2:18:17 PM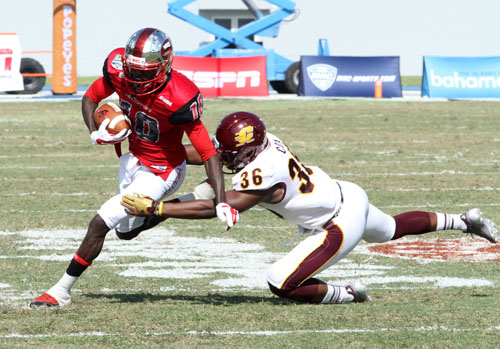 The Western Kentuky University (WKU) Hilltoppers beat the Central Michigan University (CMU) Chippewas 49-48 in the first ever Popeyes Bahamas Bowl at the Thomas A. Robinson Stadium (Photo Derek Smith)


Nassau, Bahamas – After hosting a successful inaugural Popeyes Bahamas Bowl at the Thomas A. Robinson Stadium in New Providence, The Bahamas has scored over $9 million in marketing value.

The game on Christmas Eve was attended by thousands as it was being broadcasted live on ESPN.

That broadcast had a potential reach of 110 million viewers.

According to the latest media report prepared by officials, internet reach alone was over 1.9 million people.

The game itself was an exciting watch as the Conference USA's Western Kentucky University (WKU) Hilltoppers squared off against the Mid- American Conference's Central Michigan University Chippwas.

In fact, many news sites have described the game as "one of the most exciting college football games in history."

However, it was the Hilltoppers that was victorious over the Chippwas 49-48.

While many were skeptical about the timing of the game and its overall value, Director General of Tourism Joy Jibrilu said the game surpassed expectations.

"We were just so excited before the game to have Popeyes Bahamas Bowl take place on Christmas Eve. All the US stations carried that fact this morning (December 24th) and then we come here when the stadium is at its finest and at its best. And what a game. Even those of us who do not understand football were on the edge of our seats and on our feet as we saw that final touch down," she said.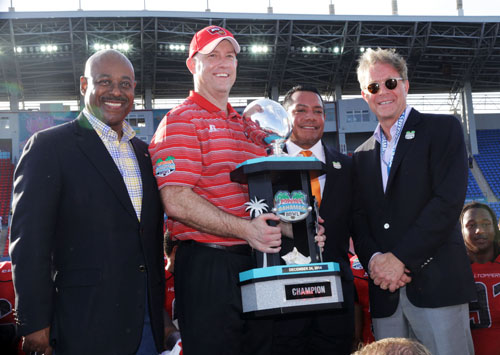 Minister of Tourism poses with Western Kentuky University (WKU) Hilltoppers Head Coach Jeff Brohm, Chief Marketing Officer of Popeyes Bahamas Bowl Hector Manoz and Popeyes Bahamas Bowl President Britton Banowsky after Western Kentuky University (WKU) Hilltoppers claims victory of Central Michigan University (CMU) Chippewas . (Photo Derek Smith)


"There are two factors that need to be taken into consideration. First- that it is a bowl game and the window of opportunity to play those games are between the 20th and the 21th of December and the second of January. Secondly, I believe that Popeyes, Conference USA as well as the Ministry of Tourism looked to see when we would have maximized viewers watching the game and we are told that this is the peak viewing spot in the United States of America – noon on ESPN streaming on their number one channel to 110 million viewers. So for us we may look at it and say 'Christmas Eve is probably not the best time' but when you look at the global reach of this, this is the reason why we have these events – to let the world know that The Bahamas is here and we mean business."

Additionally, prior to the game, Popeyes Restaurants advertised through marketing paraphernalia in 1,100 stores.

"When one looks at return investment, money that was paid through the sponsorship of Popeyes in the United States, you could not ask for a better corporate sponsor. They took care of logistics costs etc. outside of USA and the marketing reach of this has just surpassed any expectation. We could not pay for that and that does not include what happened at the game. The last five minutes of the game will be shown over and over again. We really got the best value for money that we could have ever hoped for," Ms. Jibrilu added.

The Popeyes Bahamas Bowl will take place over the next five years in December.




© Copyright 2014 by thebahamasweekly.com -