Last Updated:

Feb 6, 2017 - 2:32:04 PM
---
LONDON, England - An assortment of Bahamians and a smattering of journalists converged in the reception rooms at the Bahamas House in London.

The buffet food, open bar, and Usain Bolt on the television helped gel everyone together, but everyone was there for one reason, and you could cut the anticipation with a knife.

The men's 4 x 400 metres Olympic champions were due to arrive at 8pm, but as the minutes crept by there was still no sign of them. The crowd swelled and the excitement built.

At 10pm we were shepherded into a separate room and informed of the team's imminent arrival. The doors opened and, for a split second, the buzzing crowd hushed, before re-awaking with a roar of appreciation.

In walked the victors (all but Demetrius Pinder), with their smiles and medals gleaming simultaneously. They didn't get far before being mobbed by handshakes, back patting and congratulations. And then came the obligatory 'facebook profile' shots with the medals (of which I confess I am also guilty).

The athletes soaked up the praise and chatted with each and every person who approached them. Picking my moment, I managed to snatch a few seconds with star man Chris Brown.

In these situations you can't help but ask how it feels to finally get that elusive gold, to which Chris responded:

"First of all I just want to give thanks to God. Without him none of this would have been possible," said Brown. "To beat America and to win the gold was just incredible."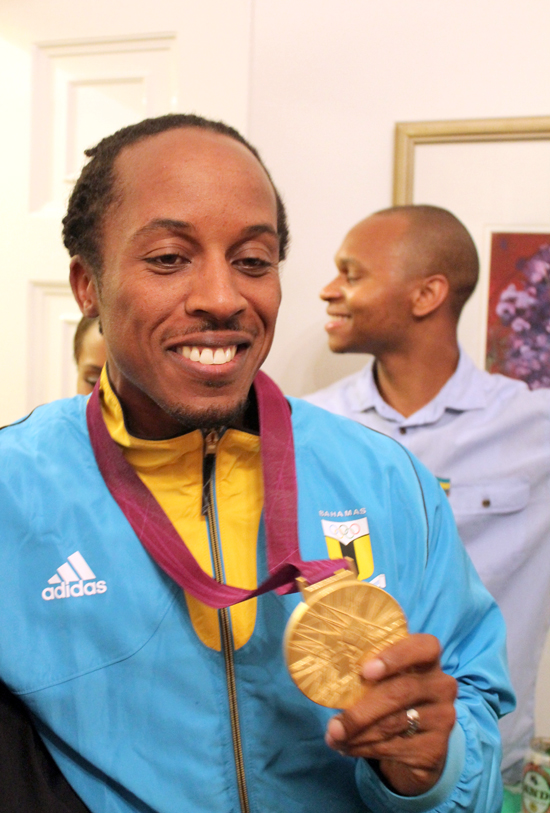 Incredible indeed, considering that the US hadn't been beaten in this event (boycotts aside) since 1952.

And this coming from the man who is no stranger to medals himself. At the age of 33, some might say that Chris Brown was approaching his twilight years, although he assured me, he will be back for Rio 2016.

It's hard to imagine Team Bahamas without their talisman. It was only two weeks ago that the world watched as Chris Brown led Team Bahamas out at the opening ceremony:

"I was so proud when they asked me to lead out The Bahamas. To carry the flag was a huge honour."

Little did we know then that Chris Brown, Demetrius Pinder, Michael Mathieu and Ramon Miller would run the perfect race. They were in contention for a medal the whole way through, but it was only on the last straight that Ramon seemed to find that extra ounce of pace to charge past Angelo Taylor and seize glory.


We all saw how fast they were on the track, but the question that everyone wants answered is, 'who has the fastest feet on the dance floor?' Chris Brown, ever modest, conceded that it was definitely one of his younger teammates. Unfortunately, the athletes were whisked away from their adoring crowd and we never did find out the answer. I leave it up to you to decide on their return… when the partying starts for real.


More from journalist Ed

Burleigh at
Twitter @EdBurleigh or
http://edburleigh.wordpress.com/





© Copyright 2012 by thebahamasweekly.com

Top of Page