From:TheBahamasWeekly.com


Sports
Caledonia Claim the Cup
By Lionel E. Haven, BFA
May 1, 2009 - 10:31:11 AM






Nassau, The Bahamas - Caledonia FC salvaged some respect for their season when they claimed the BFA KO Cup in dramatic fashion on Sunday, April 26, 2009. Having lost the league title to Bears FC and further seeing them claim the President's Cup New Years Day, Caledonia put out their best foot to stop the Bears from claiming the triple, and needed all of 90 minutes to do the job.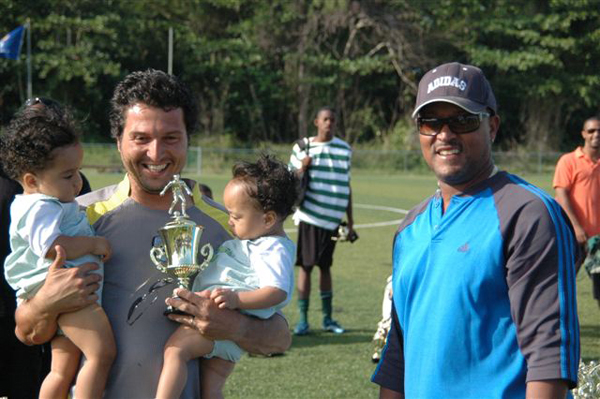 The match started evenly with both teams creating opportunities to score. Bears drew first blood in the 23rd minute when a lunging tackle in the Caledonia penalty area conceded a penalty. League leading goalscorer Lesly St. Fleur stepped up and converted, giving his team the one goal lead, and one hand on the cup. The first half ended with the Bears holding on to this lead. The second half had barely started, however, before Caledonia equalized. Wagner Machado hit a looping shot from distance that flew into the back of the Bears net 34 seconds into the second half, and leveled the score. The early goal made the match far more open and saw both teams create opportunities to steal the match. Two late occurrences in the game made its mark. First, with 8 minutes remaining in the match, on a Bears attack, the Assistant Referee signaled for an infringement that the referee awarded as a penalty to Bears FC. Having discussed the matter with the assistant, the Referee then decided that the perceived incident did not in fact take place, and instead awarded a goal kick. This was then followed by a Caledonia attack, during which time Bahamian senior international Connor Sheehan took a shot that deflected off a Bears defender and wrong-footed goalkeeper Corie Frazer, giving Caledonia a 2-1 lead. Only two minutes remained after this, which Caledonia played out and held on to claim the cup.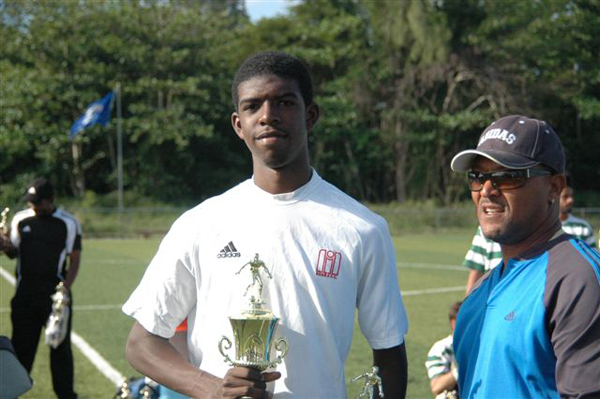 The match was followed by the presentation of awards. Conducted by BFA Vice President Sam Haven the following awards for the year were presented:
BFA Knock Out Cup Champions – Caledonia FC
BFA Knock-Out Cup Runners-Up – Insurance Management Bears FC
League Champions – Insurance Management Bears FC
League Runners-Up – Caledonia FC
Most Valuable Player – Lesly St. Fleur, IM Bears FC
League Leading Goalscorer – Lesly St. Fleur, IM Bears FC
Youth Player Award – Alex Iferenta, IM Bears FC
Coach of the Year – Christian Villi, FC Nassau


© Copyright 2009 by thebahamasweekly.com -