From:TheBahamasWeekly.com


Sports
High Jumper Raymond Higgs Moves to Group of Elite Bahamian Long Jumpers
By Alpheus Finlayson, BAAA
May 24, 2011 - 11:40:19 AM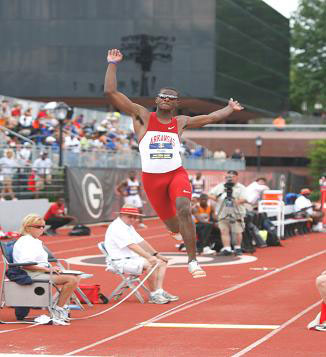 At the University of Georgia in Athens, on Saturday, May 14th, Bahamian High Jumper, who holds the Carifta Games record at 2.21m (7'3"), quietly moved into elite territory for Bahamian Long Jumpers.

On that weekend that saw O'Neil Williams shatter the Bahamian 5000m record and Demetrius Pinder improve his personal best in the 400m, Higgs jumped 8.15m (26'7-3/4") in the Long Jump to place third for the University of Arkansas in the South Eastern Conference Track and Field Championships.

This performance is eighth place on the IAAF World list for 2011 as at May 21st. More importantly, his 8.15m (26'7-3/4") performance makes him the third best Bahamian Long Jumper ever. Only Craig Hepburn at 8.41m (27'7-1/4") (1993) and Osbourne Moxey at 8.19m (26'10-1/2") (2002) have jumped better.

This performance puts him ahead of Fletcher Lewis also from Grand Bahama, who was the first Bahamian to make an Olympic final in a field event when he jumped placed 11th in Montreal in 1976 with a 7.61m (24'11-1/2") jump, and Joey Wells who finished sixth in the Los Angeles Games in 1984 with a 7.97m (26'1-3/4") performance. Lewis set a new Bahamian National record of 8.04m(26'4-1/2") at the Bahamas Olympic Trials in 1976 and Wells tied that performance at the Central American and Caribbean Senior Championships in Havana in July of 1983.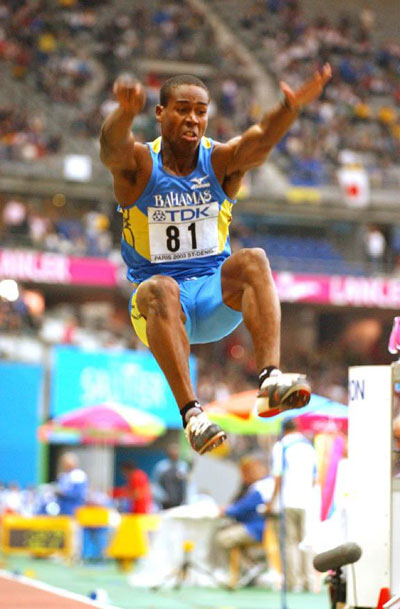 Osbourne Moxey finishes seventh in the Paris World Championships in 2003 with a jump of 7.93m (26'0-1/4").

Born on January 24th, 1991 in Grand Bahama, Higgs had been quite successful in the High Jump these past several years.

At 17 years of age Higgs upset Bahamian World Champion Donald Thomas at the 2008 Scotiabank Olympic Trials, winning in 2.21m (7'3"). That summer he placed eighth in the High
Jump at the World Junior Championships in Poland with a 2.13m (6'11-3/4") effort.

At the Carifta Games in St. Lucia in 2009 Higgs cleared 2.21m (7'3") for the record.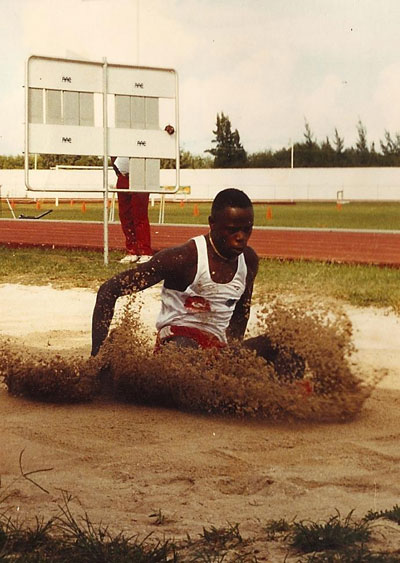 Higgs won the Long Jump at the Hywell Jones National Jr. Championships on June 12th, 2011, then placed 11th in the Long Jump final at the IAAF World Junior Championships in Moncton, Canada. His jump was 7.09m (23'3"). He qualified in fifteenth place in the High Jump with a 2.00m (6'6-1/2") clearance.

On April 4th Higgs had a wind aided (2.4mps) jump of 7.91m at the Texas Relays.

His 8.15m performance is a Daegu World Championship B standard qualifying mark.

The closest Bahamian, Rudon Bastian, has a best of 7.80m in the qualifying period, done in Louisville last year April. He resides in Louisville, Kentucky, the home of the Kentucky Derby.

The BAAA National "Open" Championships will be held on June 24th and 25th. All athletes seeking to represent The Bahamas must compete in this event, with the exception of extreme circumstances, given prior permission by the BAAA. Any athlete can qualify, however, if they win their event in the Central American and Caribbean Senior Championships in Mayaguez, Puerto Rico this July.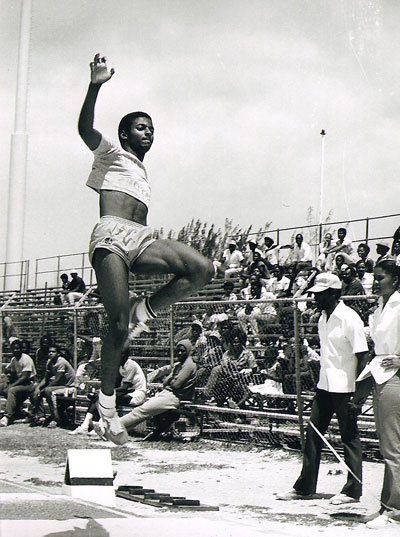 Only Fletcher Lewis, Joey Wells, and Osbourne Moxey have made a final in either the World Championships or Olympic Games in this event. The last Bahamian to do so was Moxey who's best is 8.19m (26' 10-1/2") in 2002. He placed seventh in the Paris World Championships in 2003 with a 7.93m (26'0-1/4") jump.

We all await the competition in the BAAA National "Open" Track and Field Championships in June and the Central American and Caribbean Senior Championships in Puerto Rico in July.


© Copyright 2011 by thebahamasweekly.com -