Last Updated:

Feb 13, 2017 - 1:45:37 AM
---

Nassau, Bahamas – Breezy, the official International Association of Athletics Federation (IAAF) World Relays Bahamas 2014 mascot, who will be the friendly face of the event over the next few weeks, was unveiled in front of hundreds of children during a special assembly at Temple Christian High School on Friday.

During the special assembly, Local Organzing Committee representatives unveiled the mascot and presented prizes to the winning designer, 14-year-old Kirshon Smith. Kirshon, a ninth grade student from Temple Christian High School, won the mascot competition hosted by the LOC earlier this year.

The design was one of more than hundreds of entries submitted by children from across The Bahamas who were challenged to come up with a unique mascot and name for what will be the largest sporting event The Bahamas has ever hosted.

Minister of Youth, Sports and Culture, Dr. Danny Johnson, says, "symbolizing the spirit of the event, Breezy captures the energy, excitement and creativity of our young people. Breezy's love of sports, brings to life the fun and excitement of the World Relays and share our community's sense of hospitality with everyone that comes to The Bahamas for the event, making him a great ambassador."

According to Kirshon, Breezy, the Nassau Grouper, is the fastest fish alive and is happy that the relays are coming to The Bahamas to show off his running ability whilst wearing a track suit draped in Bahamian colors with a map of the Bahamas tattooed on his right leg. He also sports an IAAF World Relays Bahamas 2014 baton.

Kirshon who won an Ipad, $500 in tuition, $500 for his school's art department and four VIP tickets to the World Relays, said, "I still can't believe that my entry is the official mascot. It's amazing to see Breezy come to life and I'm so happy that my design and idea will now be seen by everyone across the world."



Breezy was one of six finalists shortlisted in January. The other top two finalists were a Flamingo named "Relaygo" and a Blue Marlin named "Bahamarlin".

The First Runner up was Neil Cleare Jr., a twelfth-grade student of St. Johns College and the Second runner up was Glenville Scavella, an 18-year-old freshman at The College of The Bahamas. Both students received cash to be used towards tuition and a cash prize for their schools' Art Department.

"We are proud to introduce Breezy to Bahamians and people from around the world," said Lionel Haven, LOC, Managing Director. "A lot of hard work and creativity has gone into making this character that truly represents the spirit of the event."

Following the selection of Breezy as the official mascot, illustrator Kendal Major refined the design before Ronald Cartwright of Roots Junkanoo group added and built the costume design.

Mr. Haven, congratulates all who contributed their creativity in giving the event a unique identity. He also praised Kirshon's design and its ability to capture the spirit of The Bahamas and the World Relays.

"The mascot has been created for young people - and how better to do that than through a competition for those young people to design it? It is important that young people are at the heart of the event, and Kirshon's design captured the imagination and the spirit not only of the event, but also of The Bahamas."

As part of the countdown to the IAAF World Relays, Breezy will be visiting many schools across The Bahamas.

The IAAF World Relays takes place on May 24 and 25, 2014 at the Thomas A. Robinson National Stadium.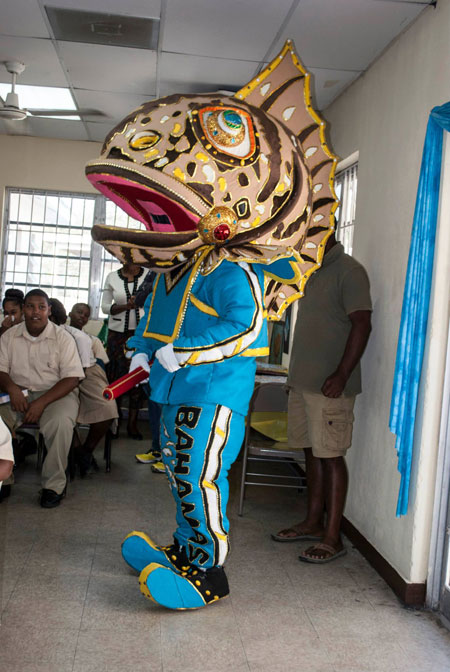 © Copyright 2014 by thebahamasweekly.com

Top of Page