From:TheBahamasWeekly.com


Sports
Results of the Bertram 'Cowboy' Musgrove cycling event
By Sylvia Russell, NPCA
Oct 1, 2008 - 7:34:28 PM




Nassau, Bahamas - Once again the Annual Bertram Cowboy Musgrove cycling classic lived up to its name, in the previous years the race was a tour where cyclists rode stages, three stages for that matter and the winner was decided by his/her times, or fastest time completing the stages. But this year organizers took each stage and made it an individuals races, so there was 42 mile road race on Saturday, September 27th and Sunday morning the 28th there was an Individual time trial which was also used to determine the N.P. Time Trial Champion, and later that evening the Track event.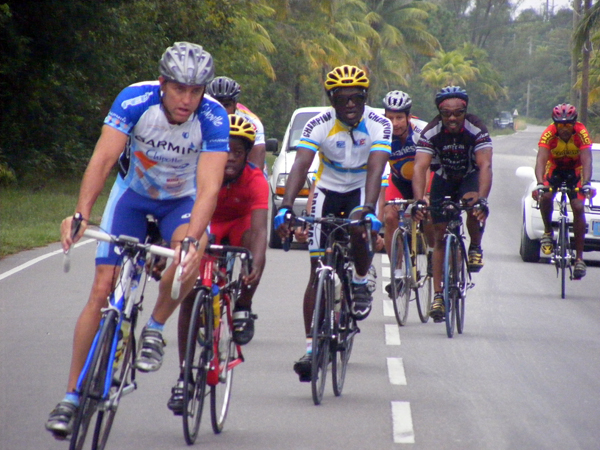 The Road Race was held around a 6 mile course covering 7 laps, 42 mile, and this year we have two of our junior cyclists competing with the seniors and it turned out to be a cat and mouse game. The seniors 'the mouse' and the juniors 'the cat', chased around the course, seniors like John Cox, Tracey Sweeting all making the race fast and exciting. But as it came down to the sprint, the seniors out powered the jr cyclist , but they give them a run for their money, so watch out sr boys, the juniors are coming.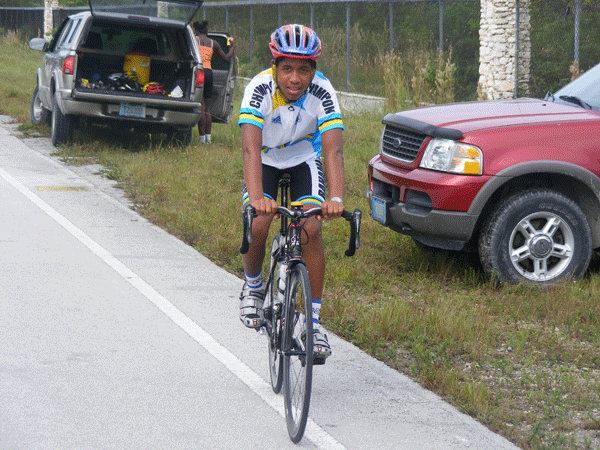 Juniors:24 miles TEAM OVERALL PLACE TIME
Tony Mackey JAR 1st 1st 1:25:04.50
Justin Minns nis Warriors 2nd 2nd 1:25:08.66
Antinece Simmons " 3rd 1st 1:25:12.41
Rahiame Colebrook " 4th 3rd 1:25:15.00

U14: 42 miles
Jay Major JAR 4th 1st 1:51:16.18
Anthony Colebrook Warriors 5th 2nd 1:51:16.18

Master II: 42 miles
Wayne Price Warriors 2nd 1st 1:51:15.18
Robert Bethel " 6th 2nd 2:03:21.03
Robert Butler 6th 2nd 2:03:21.03

Master I: 42 miles
Tracy Sweeting JAR 1st 1st 1:51:11.12
John Cox " 3rd 2nd 1:51:16.18



On Sunday morning the Time Trial event....18.3 miles (sr) 8 miles (jr), this is where we saw the speed demons came out, TT are called 'the race of truth', because each cyclist rides for individual time or against the clock so to speak. The race is all about speed, no drafting, no sprinting, just you again the clock. And when it was all over it was (sr) Mark, clutching the victory, in a time of 44:42:28 secs.

It was a great morning of racing.....(see results)


N.P.C.A. TT Championships September 28th2008
8 miles
Age 8overallplacetime
Liam Holowesko VMG 4th 1st 26:22:76

U12: girls
Antinece Simmons Warriors 8th 1st 28:40:44
Abagail Minnins " 10th 2nd 31:18:35

U12 Boys
Justin Minnis " 5th 1st 26:38.25
Carlano Bain " 6th 2nd 28:06.44

U14 Boys
Jay Major JAR 1st 1st 20:06.28
Anthony Colebrook Warriors 2nd 2nd 22:00.82
Tony Mackey JAR 3rd 3rd 26:09.47

Open Women
Amanda Graham 7th 1st 28:08.22

Open Men
Larry Russell 9th 1st 30:59:76

Ist Time Prestina Brennen 10:45.60

18.3 miles
Open Women
Carmel Stucki JAR 5th 1st 53:40.38

Master II
Wayne Price Warriors 6th 1st 53:58:88
Robert Bethel " 7th 2nd 54:42.66

Master I
Mark Holowesko 1st 1st 44:42.28
Lee Farmer 2nd 2nd 45:59.91
Stephen Holowesko VMG 3rd 3rd 47:22.10
Jeremy Stuby 4th 4th 52:07.88


Later that afternoon there was one event on the track 4 laps or 1 ml individual pursuit, it was again a cat and mouse event, where cyclist are posted on opposite sides of the track, and they are racing against the clock. The following cyclist competed against each other.

Abagail vs Carlano Tony vs Rahiame
Justin vs Lillie Anthony (Biggie) 2:53.50
Kevin 2:36.00 v Robert 2:39.88


The presentation was later around 5pm at the cycling track......on hand to present the trophies was Wayne Price, treasurer of the Bahamas Amateur Cycling Federation and Sylvia Russell secretary of the New Providence Cycling Association.


Wayne Price, representing the Federation indicated that the race went well, and its always good to see more kids coming out to participate in the sport of cycling and sports on the whole. He also said that the federations goal is to continue the development of the sport, and by extension to increase the number of kids participating in the sports, not just here in New Providence but all over the Bahamas. He also went on to say that the President of the Federation, who happen to be off the Island, asked him to also inform the cycling body, of its continued plans to upgrade the cycling track, to implement a scholarship program, continue with its youth Family Island development program and to stage more and more family bike rides throughout the country.




Also the Association/ Federation presented awards to some of the cyclist who competed during the track season just before the summer break..

Junior Cyclists champion in Track series was Antinece Simmons
Anthony Colebrook

Robert Bethel outstanding Track race pts champion

Amanda Graham " " "


Kevin Ingraham kilo Track Champion on Track Bike

The highlight of our afternoon was the children and Janet Brown of the Bilney Lane Children's Home, who helped us really celebrate the end of a very full weekend as they joined us for food and lots of fun. While some kids ran with potatoes on a spoon others helped place a mouth on kitty (new and improved version of pin the tail) as well as the hop scotch game and just doing what kids do best... running around!!

Thank you all for making these events a success, our sponsors - The Trophy Case, Etienne Dupuch Publications, Centerville Bakery, The d'Albenas Agency Ltd, N.P.C.A., B.A.C.F. and those who prepared the refreshments.


© Copyright 2008 by thebahamasweekly.com -